Building an Effective Board: A Step-by-Step Guide for Start-up Companies and Non-Profits
6 min read
Feb 3, 2023 11:50:12 AM
A step-by-step guide for start-up companies and non-profits
The decisions that boards make shape their companies. This makes them a key part of any organisation.

All companies require a board on both practical and legal levels of operation. boards take care of all major decisions for their business with the help of CEOs and senior management. Although these two provide input, boards always have the final say.

Your board should function as an independent, competent and experienced voice within your organisation, capable of directing the company's future direction towards its goals. board members should be able to handle daily decision-making, which is parred for the course in their role, as well as big, risky decisions with high impact on the organisation.

The roles of a board include:
Providing input on strategy
Choosing and managing the CEO position
Reporting to shareholders
Modelling company culture
Securing funding
If you are a relatively new company, non profit or a start-up, it can be tricky to go about establishing a board. You may be unsure of the size that your board should be, and how to build a board in relation to the business stage that you are at. You should be sure to have an established form of accountability at the top of your company, no matter its size, but you should also be conscious of not overpowering the rest of your team.

Tailoring the size of your board to the nature of your company is key. boards exist, after all, to provide guidance and fulfil your organisation's practical and legal needs. This may mean that your board is a single director (even the owner!) for a time. You can always build on the structure of your board as you go along, matching the pace of your business and the size of the rest of your team.

The trick is knowing when and how to expand your board. When you are considering expanding your board, ask yourself the following questions:
What skills do you need on your board?
What kind of candidates would you like as board members?
How do you envision your board functioning? And your company?
How boards Work
So, you have decided to build and/or grow your board. To start with, ask yourself, how do you picture your board working?

Whether your board is just beginning or is already established, you should be clear on its role, its responsibilities and the expectations it must meet.

The primary requirement of your board is that it acts in the best interest of your organisation's shareholders, communicating between shareholders and senior management and acting as a bridge.

Your board should meet regularly to assess company strategy and performance, as well as make decisions pertaining to company direction and leadership positions. Ultimately, boards have the final say when it comes to hiring or firing senior executives.

boards should also be keenly aware of company resources, keeping an eye on financial statements and legal requirements both in the business field and in their jurisdiction.
What size should the board of a start-up be?
It can be challenging to know the perfect size of a start-up board. You may worry that if it is too small, it will struggle to fulfil its role in the business and that if it is too large, it may be unable to make unanimous decisions. Before building your board, you should have a clear idea of what exactly it is you are trying to build.

Every company is different, so you should design your board to fit your company's unique needs.

With this in mind, however, it may help you to follow certain industry standards. These will encourage best practice standards across the board.

Most companies find that, beyond inception, their boards need to number between three and five members for the best results. Typically, having only one board member is unsustainable after a short initial period.

Odd numbers of board members can be beneficial for start-ups as they prevent a stalemate vote from occurring. You will be sure to always have a variety of voices and perspectives going into decision-making.
What kind of background should board members have?
To determine what sort of background you should look for in board members, consider what skills you hope your board will demonstrate.

Keep in mind your industry's standards and the long-term strategy of your company when making these decisions. You should tailor the skillset of your board to fit your industry and the demands of your business.

Make this process a collaborative one within your organisation. Seek out advice from all levels, including current employees and business colleagues and through comparison with competitors.

Be sure to consider skillsets in terms of what kind of board members you are searching for.

You should aim for a productive balance of directors from a variety of backgrounds, such as:
Management: Management and senior staff may hold a seat on the board alongside their day-to-day role. This is particularly common for companies that are just starting out.
Investors: board members may include venture capital firms that request a voice on the board in exchange for providing funding.
Independent Directors: Independent directors have no financial or personal ties to the company and fill the key role of providing a fully unbiased voice on organisation matters.
What sorts of skill sets and backgrounds are available?
Even if you have a clear idea of the ideal skill set makeup of your board, you should be sure to cross-check your vision against what is realistic to achieve and adjust accordingly.

Be aware of the talent pool in your industry. It can be easy to waste time in the board member recruitment process – both your own and the candidates'. You do not want to engage in a wild goose chase nor lead people astray if your interests and needs do not truly align.

Keep diversity a top priority as you search for talented board members. If you fail to do so, you will end up with a homogenous board incapable of forming fresh ideas or contributing new perspectives to the business. You should aim for a variety of backgrounds and outlooks to maximise input on your board.

You do not want your board to function as an echo chamber, as this will curtail its leadership potential. Differing viewpoints and experiences will prevent this from occurring and help your organisation grow.
Does the candidates' vision match my own?
Ultimately, you want to find board members who fulfil your vision as people, not just to meet the numeric requirements of your board. Consider each candidate carefully during the application and onboarding process to make sure that the position is a good fit for you both.

You should consider your candidates' credentials and experience, as well as how their vision for the position matches that of the overall organisation. Will you be at continual odds with the direction and goals of the company? Debate is healthy, but opinions that conflict on a foundational level will ultimately hamper business growth and success.

You should make sure that each board member who is hired aligns with your company's foundational mission and principles. They should not be reticent to endorse, practice and defend said principles in the industry and beyond.

They should also work well with the existing team. As you network and search for new candidates, keep in mind the balance between experience and expertise, as well as how they might intermesh with workplace culture and current board members. Someone may have a perfect resume, but if they do not fit the company as a person, then it could be a tough call. Finding a balance between a fresh, crucial perspective and a harmonious, productive vision is key.
How can you set new board members up for success?
Finding the perfect board member is a continuous process.

Be sure to provide your newest members with an onboarding experience that helps them find their feet on their new board. You should equip them with the knowledge and power to jump straight into work, making sure that they are up to date on company news and operations alongside the rest of their colleagues.

Training may also be a good call, depending on the style of your organisation and the new hire's background.

If your newest recruit has a formal qualification to their name, then you need not worry about any knowledge gaps. They will be fully aware of a board's role within an organisation, as well as its responsibilities. Still though, it may be helpful to explain the particulars of your business.

The nature of board culture in relation to the rest of management has shifted. Firms used to expect boards to follow all decisions made by senior management and simply give their seal of approval without much forethought. Now, boards are expected to participate in decision-making, playing an active role in the direction of their company. They should be prepared to engage in extensive monitoring and offer insight and guidance.

For this reason, formal board training is more important than ever to ensure the success of all board members, as well as the board and organisation as a whole.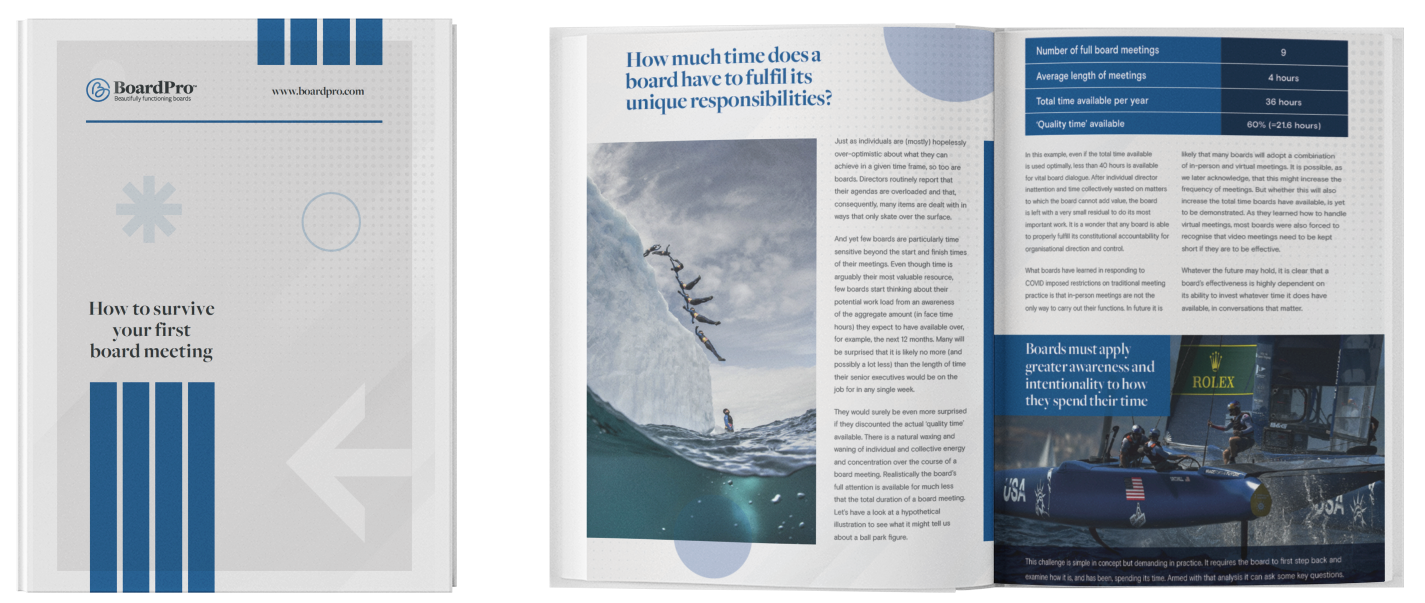 How to survive your first board meeting - Download our free eBook
---
If you're looking for a tool to streamline your board processes, check out boardPro - an all-in-one software solution designed specifically for boards and busy CEOs!
Schedule a demo with our team today and begin to experience a whole new way of meeting.