Decision register
Decisions that boards make often have strategic significance. Being able to find those decisions is critical. The decision register is a place where all decisions made by your board are stored. The decision register is a key feature in BoardPro and maintaining this register helps to make accessing past decisions easy.
Find past decisions with ease
BoardPro automatically pulls the decisions made at meetings, by vote, and by flying minute into one simple register. If you need to find a past decision, you know where to go. Don't trawl through emails and PDFs of past minutes to find decisions made, find them in the easily searchable decision register.

You can use the powerful search function to find decisions by keyword or date. If you need to download a copy of a decision, BoardPro will format this into a professional PDF document for you to to download in a click.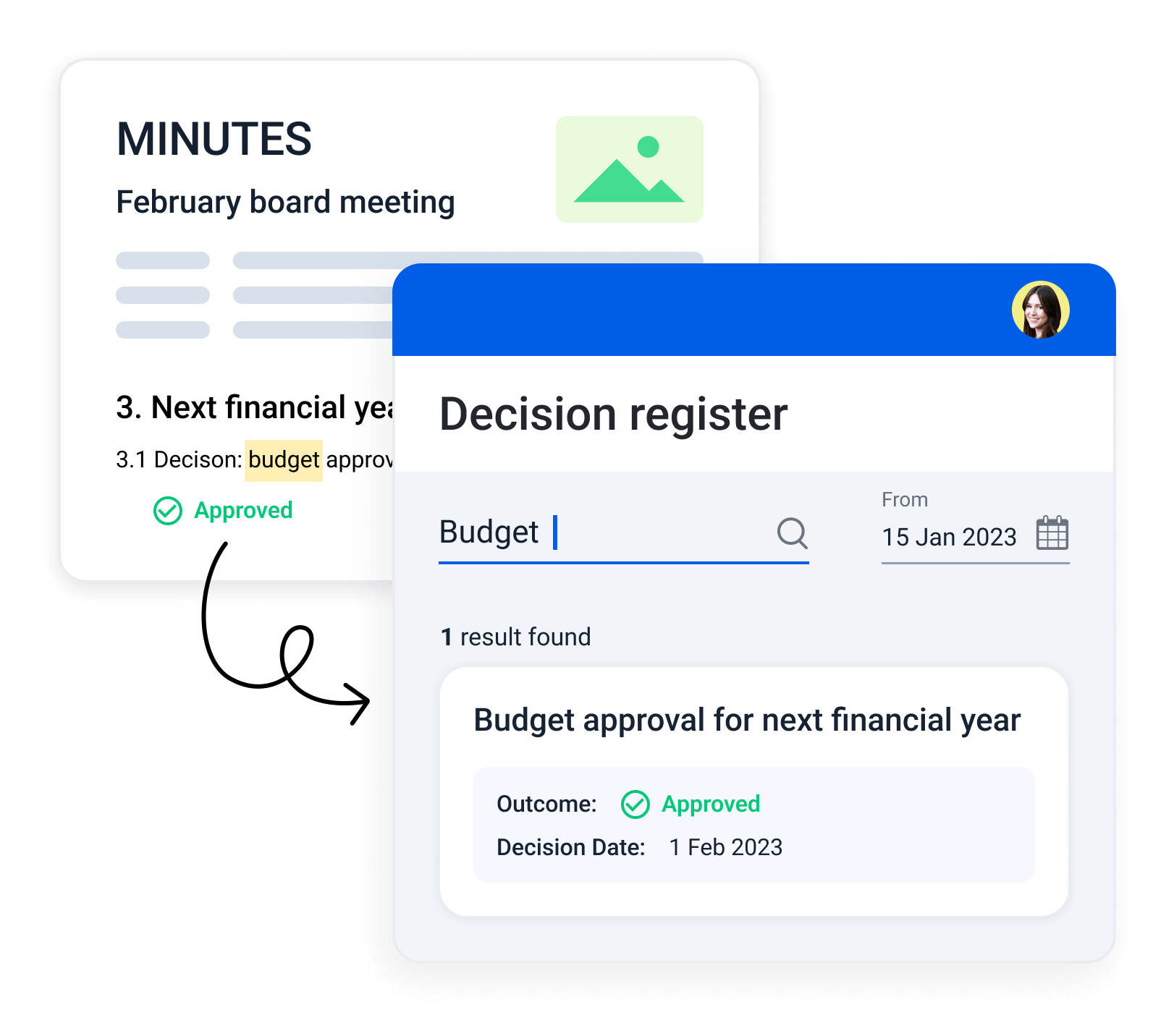 Quick links for your reference
Decisions are at your fingertips with BoardPro's decision register. When you search a decision in your register, you can quickly link to the relevant details within BoardPro. With a click you can jump directly to the agenda item and meeting where the decision or vote was made, which gives all of the information and context that you need. For flying minute outcomes, you can also navigate from the decision register back to the flying minute to access the discussion and documents that supported the outcome.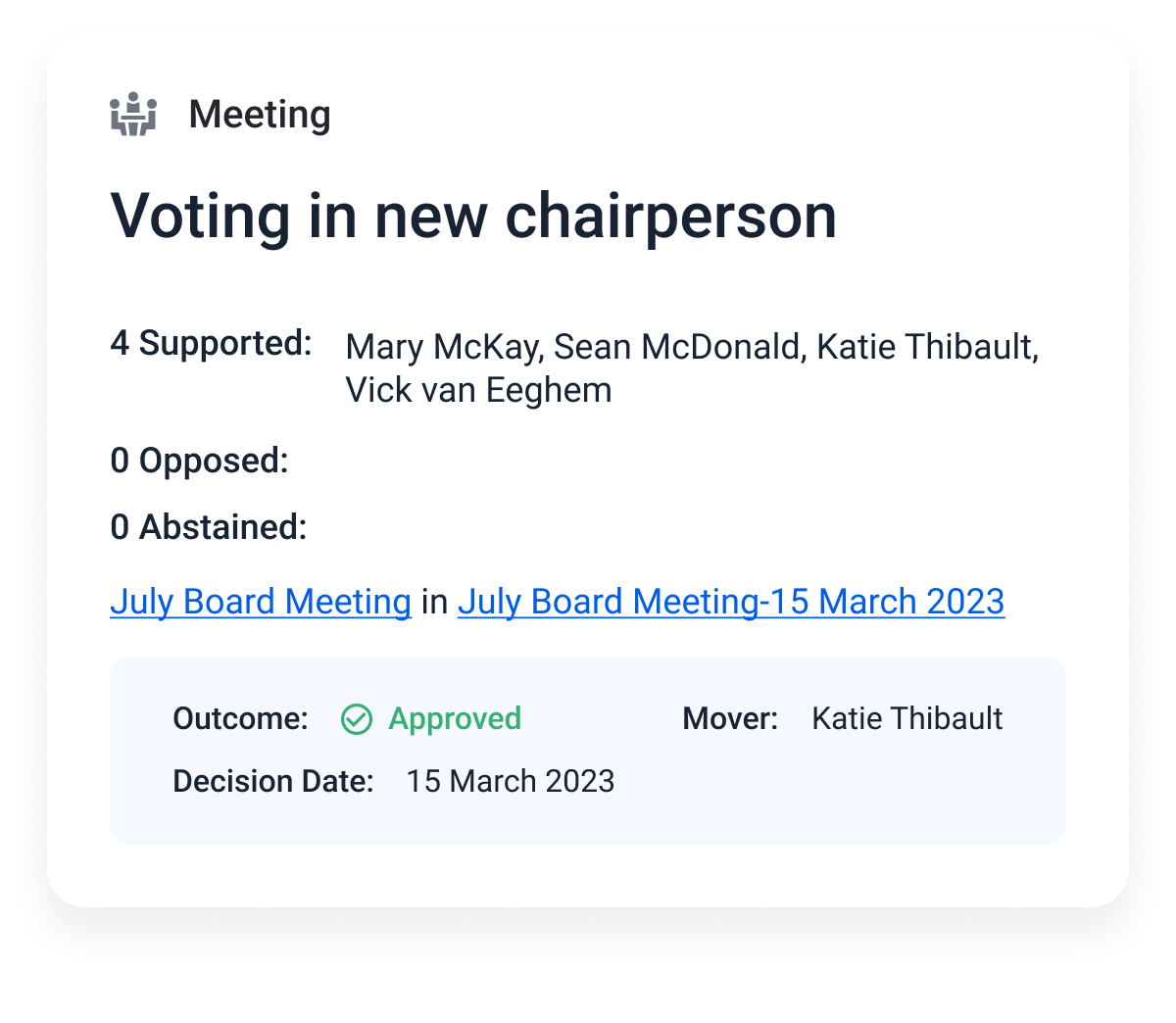 Decision register in BoardPro...
It is the responsibility of every board of directors to make decisions. However, with many decisions being made, where are they all stored? Every decision made in BoardPro is automatically stored in your decision register, allowing you to automate the administration of keeping detailed records of decisions made.

The decision register is easily accessible in BoardPro, and is located under the documents tab. The live register pulls from three areas of BoardPro where decisions are made: Decisions made in the minutes, decisions made from the outcome of a vote at a meeting, and decisions made via flying minutes. When a decision arises out of a discussion at a board meeting, it is recorded in the minutes. As soon as your decision is entered, BoardPro automatically feeds it into the decision register.

Some important decisions need to be made by the board voting at the meeting. You can facilitate this vote using BoardPro, and the outcome of your vote will be automatically generated based on the predetermined settings you have chosen for your board's voting rules. When your vote has been completed and the decision approved, BoardPro will push it straight through to your decision register. There are also times when decisions need to be made between meetings, which BoardPro refers to as flying minutes. Once discussion and voting has taken place and the outcome of the vote determined, approved flying minutes are also included in the decision register.

No more looking through emails and pdfs trying to find a decision made in the past. In BoardPro, your decision register is the answer if you need to easily locate and reference past decisions. The simple search function included within the register makes it easy to find decisions, no matter how long ago. You can put in place date parameters for your search, search by decision title, or both. If your chair were to ask, "In which meeting did we approve the 2022 budget?", you could find the answer in moments. If you need to download a decision, once you've found your decision using the search, simply hit 'download' and you'll get a ready formatted PDF of your decision.

*Flying minutes and voting are not available to Essentials customers.


FAQs
Are decisions that are not approved included in the decision register?
No, only approved decisions are included in the decision register.

You can find the record of the decisions that didn't get made to be approved in the minutes of a particular meeting, but not in your decision register.
Are decisions the same as resolutions in BoardPro?
Yes! In BoardPro you will see these called decisions. The terminology may change among boards or regions, but this is in reference to the same thing.
Can I edit the decision register?
No, the decision register is an accurate record of the decisions that have already been made at meetings.
But, if the minutes of a meeting have not yet been confirmed, then a decision can be edited if a correction is needed. As decisions form part of the minutes of a meeting, once confirmed they are locked into place.
Do I need to do anything for my decisions to populate my decision register?
No, you don't! The great thing about BoardPro's decision register is that all approved decisions automatically populate your register. All you need to worry about is capturing the decisions in your meeting and BoardPro does the rest.
How can I tell which decisions have been made in meetings, and which are from flying minutes?
Each decision in your decision register is marked as either an in-meeting decision or a flying minute, making it easy to determine where a decision was made in a glance.
Back to top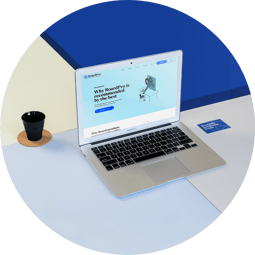 Try BoardPro free for 30 days
Create an agenda, build the board pack, take minutes, assign actions, and load files to the secure repository.