Meeting agenda builder
Creating your board meeting agenda has never been easier with BoardPro. It is one of the most important tasks undertaken by a board administrator, however it can be costly and time consuming if you get it wrong.
With BoardPro, you can build an agenda by cloning an existing agenda, or use the best practice template.
BoardPro will automate the regular tasks of confirming the minutes, and reviewing the interest register and action list. You're already practicing good governance without even trying!
Build agendas effortlessly
Creating an agenda in BoardPro is effortless and intuitive. What's better is that once you've built your first agenda, you can clone it for the next meeting. Customise the structure of your agenda by adding as many sections and agenda items as required. Need to change the order, or add a new agenda item? Simply drag and drop your items into a new place in the agenda, and watch as they automatically re-number for you.
For each agenda item you can write a purpose, select a presenter and allocate a time allowance. You can also attach supporting documents for each agenda item, which will collate into the board pack.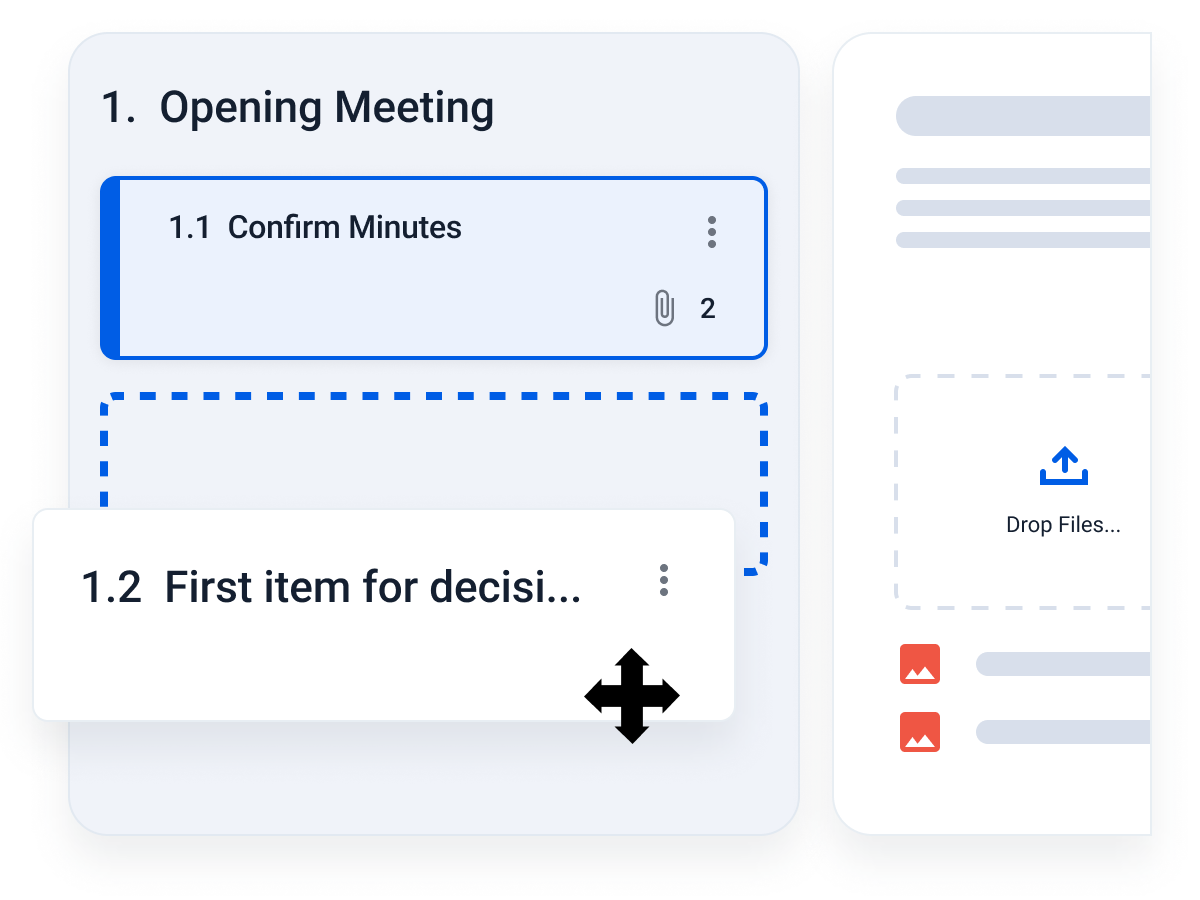 Build from a template, or clone your last agenda
When you build an agenda, you can copy the agenda from a meeting you have already built. This saves you time and means only having to start from scratch the first tiem. Along with this, you will get a consistent meeting structure every time. You can then customise the rest of the agenda for each meeting.
The second option is to build an agenda using the best practice template. This is a great option for new boards, or boards with less experience to get an idea of good practice for what a meeting agenda might include.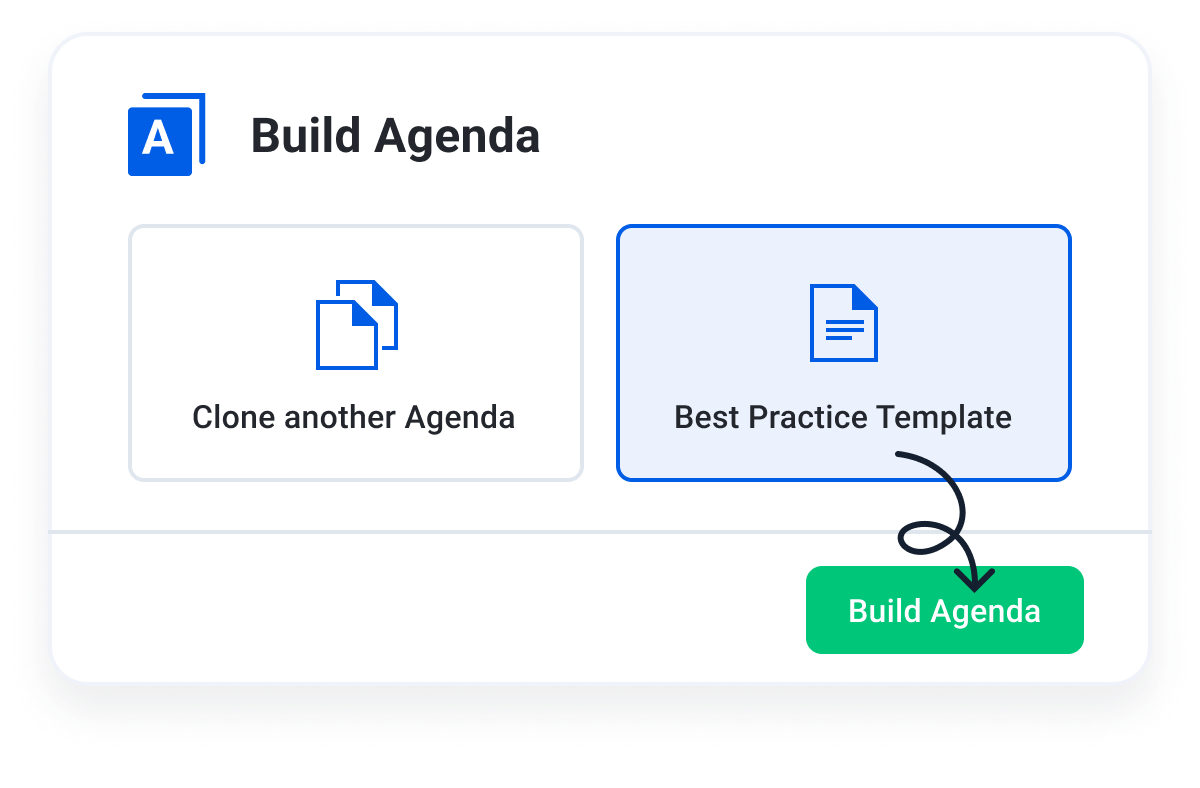 Publish and distribute with ease
Once you've completed your draft agenda, the next stage is to publish the agenda, and it's at this time BoardPro will create and format your board pack. You can then securely share this with your board members, who will receive a secure email link notifying them that their board pack is ready and prompting them to login to their account to read it. Gone are the days of sending the board pack via email attachment, you can count on BoardPro to securely store and share all meeting content.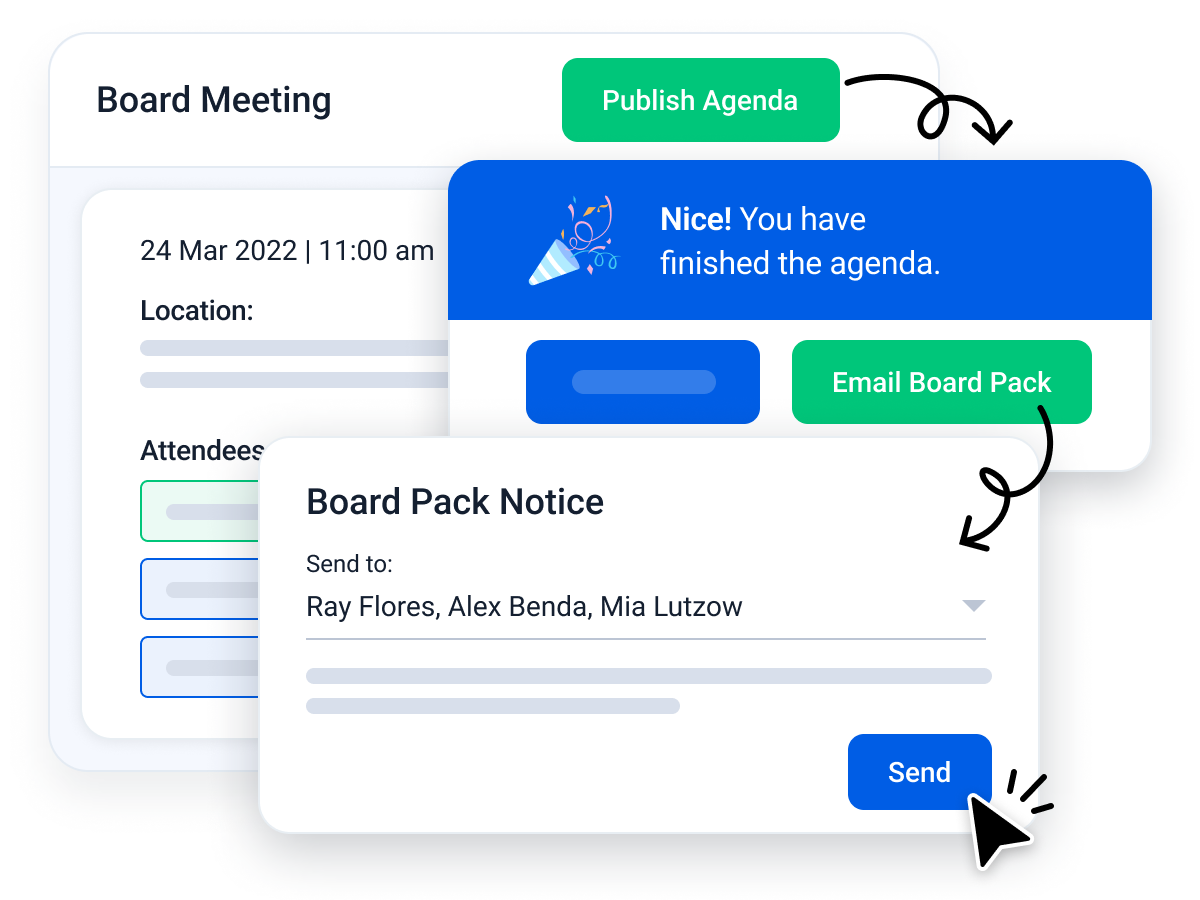 Compiling board documents used to be a HUGE job that often took a couple of days. With BoardPro, I can produce this in a fraction of the time.
Mary Sokolic
EA to CEO | Hobson Wealth

Meeting agendas in BoardPro...
To run an effective board meeting you need to start with a good agenda. Let BoardPro do the heavy lifting for you, so you can focus on preparing for the upcoming meeting. Using BoardPro, you'll collaborate with other administrators, publish your agenda, and send it out to the board quicker than ever before.

When you add a meeting in BoardPro it will be in the stage, 'No Agenda'. To get to the next stage, click 'build agenda', which moves you to the Draft Agenda. This stage is for administrators to collaborate and build out the agenda before making it available to board members. You can customise the structure of your agenda by adding, reordering, and removing sections and agenda items. Standard agenda items will form the majority of your agenda, and where you can include a purpose, presenter, time allocation and supporting documents for each agenda item. You can also use the smart agenda items, which offer automation to improve meeting cycle efficiency and reduce administrative overhead.

There are three main smart agenda items in BoardPro: Confirm minutes, interests register and action list. 'Confirm minutes' automatically includes the minutes from your last meeting into your board pack, for reviewing and confirming at this meeting. Later on in the meeting cycle, you will have a function to confirm these minutes during the minute taking. The 'Interests register' dynamically pulls a list of interests from your People section, so you always have the most up to date list of interests for your meetings. The 'Action list' is also dynamic, and its purpose is to automate the review of existing actions which were raised in past meetings. You can filter the actions to review in your meetings.

Once you've finished drafting your agenda, you can then publish it and consequently build your board pack. This will move you to the published agenda stage, and your pack will now be available to board members. You can notify the board at this stage by sending the board pack notice to your attendees, who will be able to securely view the board pack and meeting agenda.

When the agenda has been published, you can still make changes or add late papers to your board pack easily. Any updates you make will automatically re-number and re-index the rest of the agenda, saving precious administrator time.
FAQs
When I clone an agenda, what parts of it clone?
When an agenda is cloned, the agenda sections and items will be duplicated, as well as the purpose, presenter, and time allocation. You can then customise the rest of the agenda for that particular meeting and upload the documents for that meeting's pack.
If I make changes to a published agenda, will my board members be notified?
No, not automatically. In BoardPro, you are in control of who is notified and when. If you make changes to a published agenda, your board members won't be notified unless you choose to via an email notification.
At which stage can board members view the agenda?
Board members can view the agenda at the published agenda stage. Prior to the agenda being published, the meeting is in the draft agenda stage, where administrators, senior executives and the chairperson can collaborate and build out key information before it is made available to the rest of the board.
How do I get my last minutes to show as available for confirmation in the agenda item 'confirm minutes'?
For the last set of minutes to show as available for confirmation when building your next agenda, the meeting you wish to confirm needs to be in the 'minutes in review' stage. Once a meeting is in the minutes in review stage, you will tick a box to include them in the next meeting for review and confirmation.
How do I signal the end of my meeting in BoardPro?
The final agenda item is the in-built 'close the meeting' item. Here, you've got the option to select the date of your next meeting and leave any final notes.

If you've assigned a time allocation throughout each of your agenda items, the 'close the meeting' item will also suggest a meeting end time based on the sum of these individual times.


Back to top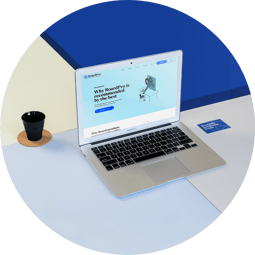 Try BoardPro free for 30 days
Create an agenda, build the board pack, take minutes, assign actions, and load files to the secure repository.