Governance repository
Managing your documents in BoardPro means that you can access all important governance and meeting information in one central, secure location. Leave behind digging through ad-hoc external document repositories like Dropbox or Google drive, and let BoardPro manage all of your governance related documents.
Documents stored in one central location
BoardPro is the ultimate storage system for key governance information such as your organisation's constitution and policies, giving you unlimited data storage and the ability to create any number of folders. Your BoardPro can become a one-stop-shop for your board members, who are confident that they can find what they need.

You also have the option to restrict access of your folders to board members only, meaning you can store sensitive documents in BoardPro.

The document repository is easily searchable using a simple keyword search. Information is at your fingertips whenever you need.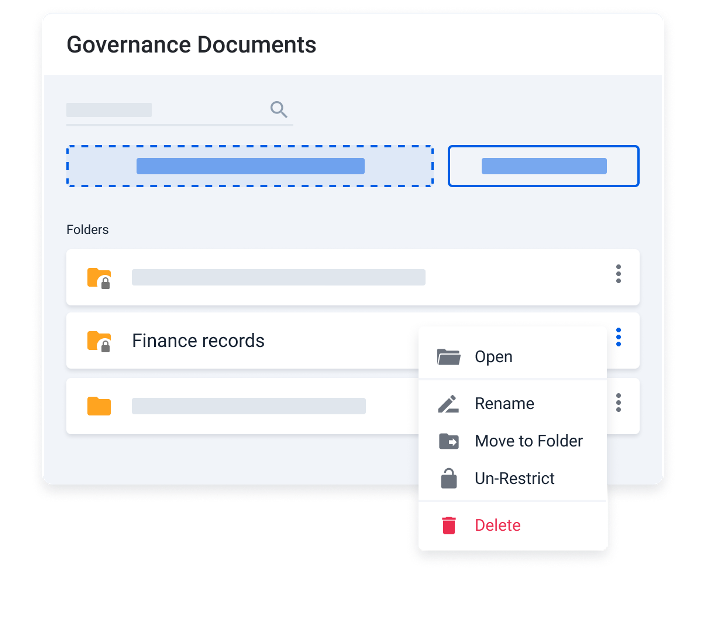 Find past meeting documents in an instant
The meeting documents centre provides you with a lifetime overview of all your meetings and documents. View your meetings in chronological order with instant access to the agenda, board packs and minutes for each meeting.

The comprehensive search function allows you to search your entire BoardPro account for any place a keyword has been used.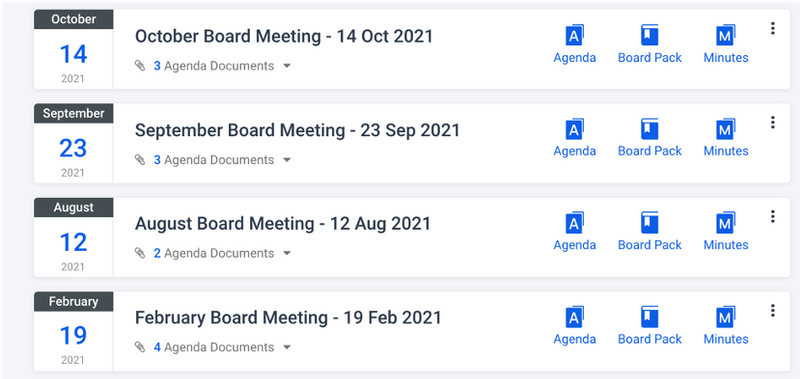 Communication is at the heart of a good board process.

We love how everything happens in one place and not across countless emails or shared folders
Patrick Coyle
GM Australasia, Karma Cola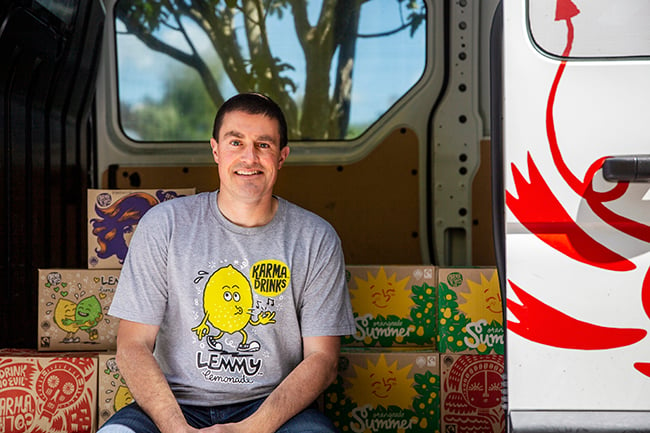 Governance repository in BoardPro...
Constitutions, policies, procedures, agendas, minutes, board packs, the list goes on! There's no denying it, running a board involves a lot of paperwork and organisation. BoardPro's solution to organising your documents is two-fold, with both the governance documents and the meeting documents.

The governance documents is your central file repository, eliminating the need for other file sharing platforms like Dropbox or Sharepoint. It can be found under the documents tab on your navigation menu and is easy to access and navigate for administrators, executives and board members. Administrators can simply upload documents, creating as many folders and subfolders as required, and store unlimited data within them. BoardPro also offers the option of board-only folders, so that information for only the board members can be kept securely in the same central platform.

The meeting documents is a central place where BoardPro stores all documents from the meetings that you've built in BoardPro. It can be found under the documents tab on the navigation menu, and offers you access to all meeting documents in one glance. The powerful keyword search will pull up results for any actions, decisions, notes, documents and agenda items that include that keyword. All your governance related documents are stored and easily searchable in one, central, secure location with BoardPro.
Read your board pack on the go with iOS mobile app
Out and about and need to read your board pack? The iOS app BoardPro Notes™ enables board members to access published board packs on the go on their iPad or iPhone. This app is a companion tool to the standard browser-based version, and is designed for board members to view and annotate their meeting papers. If members of your board don't use iOS devices, that's no issue. BoardPro is readily available on any device via web browser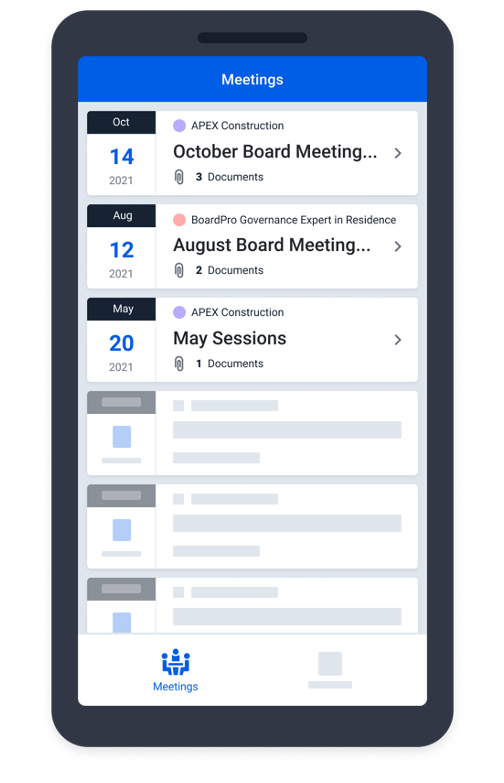 Governance repository FAQs
How do I know my information is secure?
You have control over who can access your BoardPro account. Other people can only login once invited by an administrator on your account, and each must set up a secure password. BoardPro is committed to the security of your organisation's data, which you can read about here: https://www.boardprohub.com/security.
Who can view and edit board-only folders?
Only people who are added as board members to your People List can view board-only folders. Users with board secretary and chair access can create and edit board-only folders, and can view them. Other administrative roles do not have access to these folders.
What do I do with my agendas, minutes and board packs from prior to BoardPro?
You can store any documents created prior to BoardPro in your unlimited governance document repository. You may also choose to recreate some of your meetings in your BoardPro account, in which case these documents would be found in your meeting documents.
How do I create a folder in my governance documents?
Anyone with the access level of administrator, board secretary, chair or senior executive can create standard folders in the governance documents. Someone who has board secretary or chair access can also choose to restrict these folders for board-only access. This can be done by simply ticking the 'board-only folder' checkbox in order to secure the folder.
How are the meeting documents organised?
The meeting documents organise your meetings in chronological order so that they are easy to navigate by date. You could also use the powerful search function in order to find something in particular
Back to top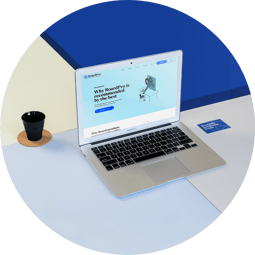 Try BoardPro free for 30 days
Create an agenda, build the board pack, take minutes, assign actions, and load files to the secure repository.