Interest register
Board members have a duty to declare their interests as they arise in order to manage conflicts of interest. With BoardPro's interest register, compliance is made simple, allowing you to find the whole board's interests in one place
Interests recorded in a central register
In BoardPro, find all current and past interests in a central register. Keeping an accurate record of the interests of directors is a typical requirement for boards. Having interests at the top of mind helps to minimise risk for your board when making decisions, and any potential conflicts are noted before major discussion takes place.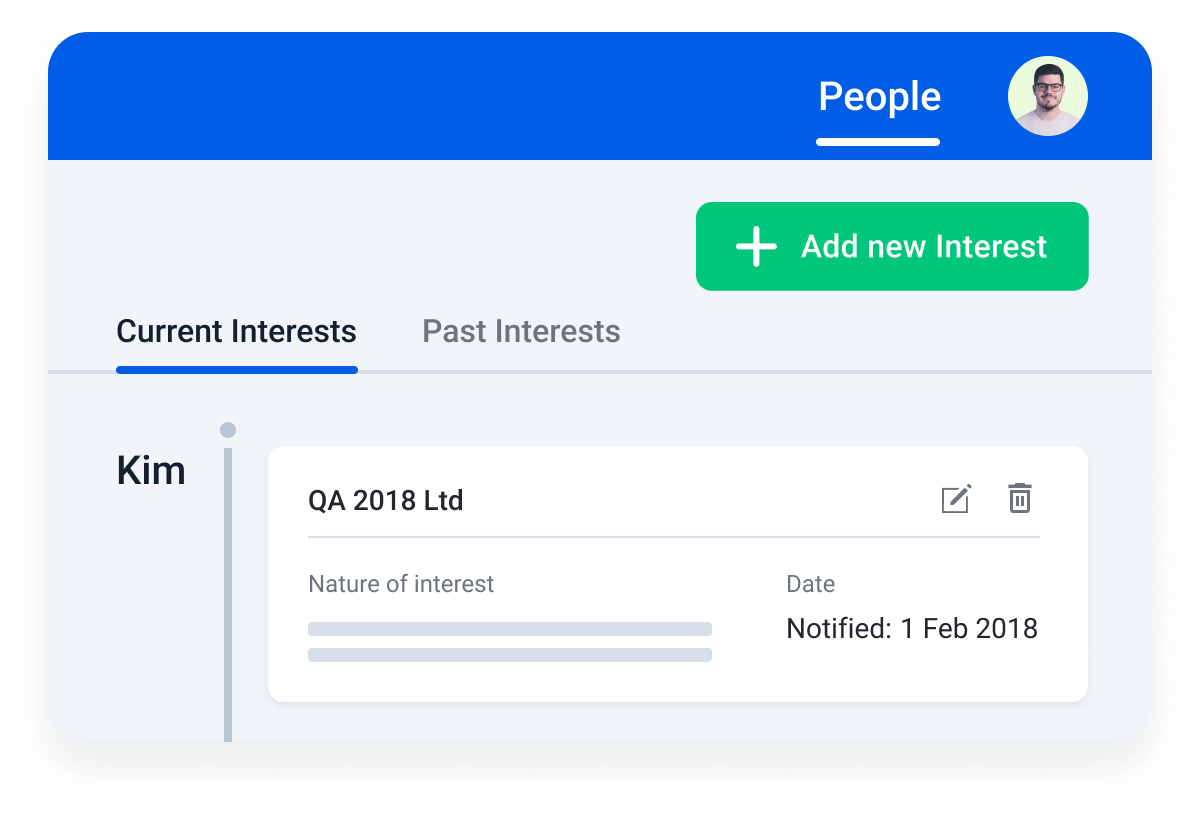 Update your interests
Interests are easy to update in BoardPro. A board member can update their own interests, or an administrator can do this on behalf of others. The interest register is found under your People tab. Click 'add interest' and fill in the details of the new interest. You can also edit and close interests when necessary.

If a person leaves the board, their interests are stored indefinitely under Past Interests, fulfilling the common requirement of boards to keep a record of historic interests for a number of years.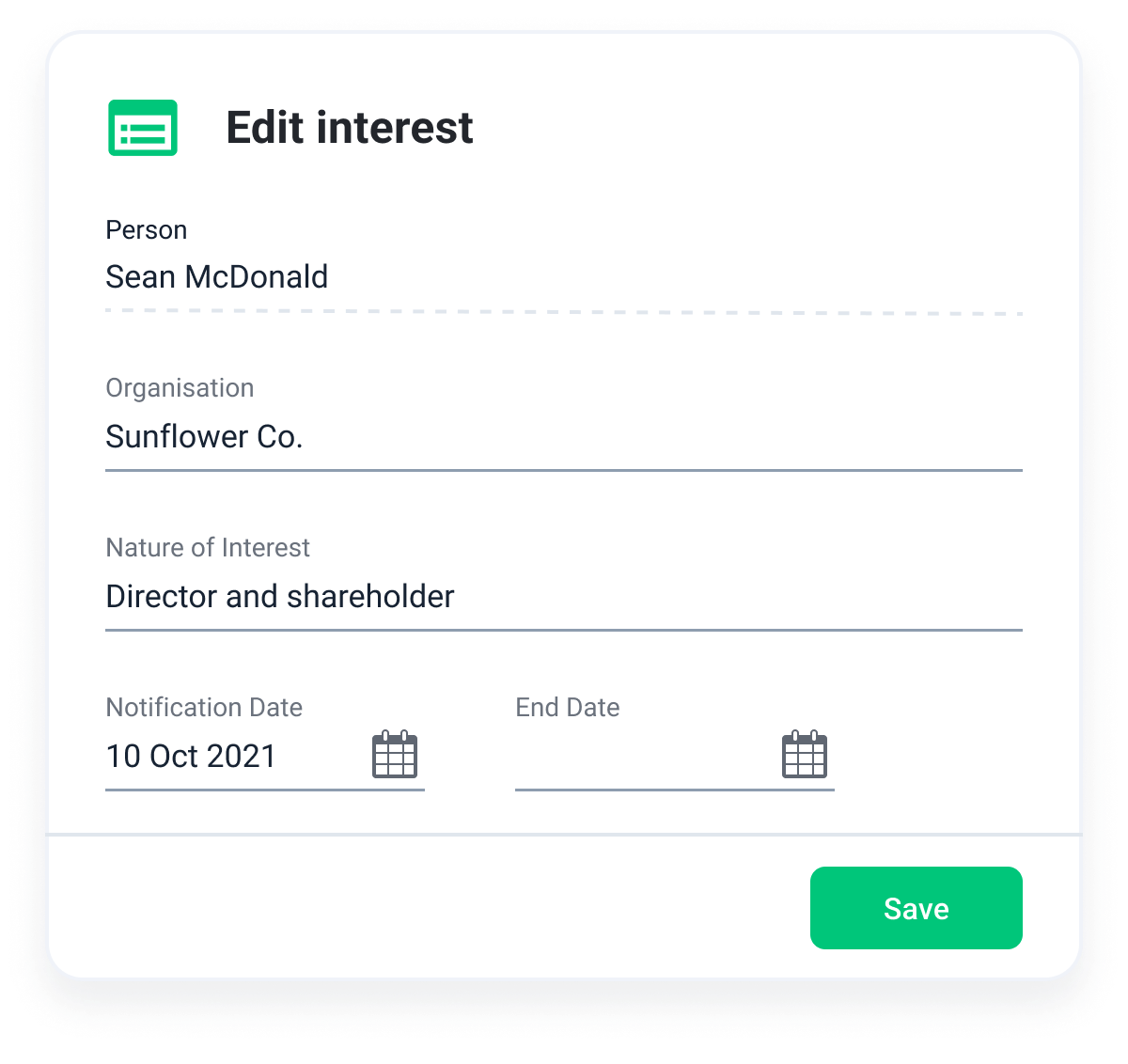 Integrate the interest register into your meetings
BoardPro dynamically pulls live information from your interest register into the agenda of your meetings. When the agenda is published, BoardPro pulls a snapshot of your interest register into the board pack, allowing board members to review this as a standing item in their meeting preparation, and ensures that any potential conflicts can be acknowledged before decisions are made at the meeting.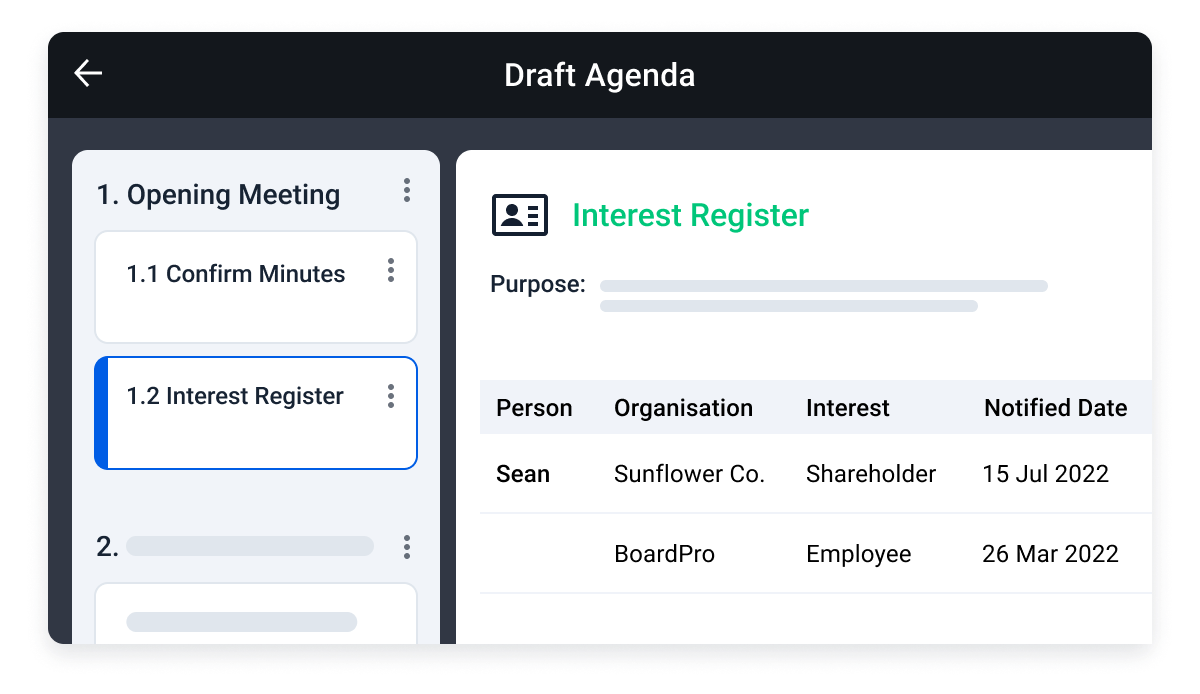 Interest register in BoardPro...
Board members have a duty to declare their interests as they arise to manage potential conflicts of interest. With BoardPro's interest register this process is made simple. Board members don't need to worry about sending emails with updates of new interests to an administrator to update on a spreadsheet. Instead, they can update this themselves in BoardPro.

The interest register can be viewed in two places in BoardPro. Under the People tab, you'll find the master interest register where updates are made and past interests can be viewed. From this view board members can add interests for themselves, or administrators can add interests on their behalf. To add an interest, simply click 'Add Interest', then enter the organisation, nature of interest and notification date. When a board member steps down from your board and they are removed from your account, their interests automatically have a closed date applied to them and are moved to your closed interests, which assist you with keeping accurate historic records.

The second place you'll find the interest register is within your agenda, under the smart item 'interest register'. When you build the agenda, the automated interest register item will appear in each meeting, and it draws dynamically from the mast interest register to ensure that you have the most up to date version of interests included in the meeting documents for this meeting.


FAQs
If a guest attends a meeting and doesn't have a BoardPro login, can I add their interests?
Yes, you can add interests in your interest register for people who aren't registered users in BoardPro. The process is just as simple, an administrator can select 'add someone not on the list' when adding in a new interest.
What happens to their interests when a board member is deleted from the BoardPro account?
If a board member resigns and you remove them from your BoardPro account, their interests won't be deleted. Instead, they will automatically be assigned a closed date and move to the 'closed interests' list, where they will be stored indefinitely.
Some of my board members aren't very tech savvy, is it easy for them to manage their interests?
Yes, adding and editing interests in BoardPro is very easy. All that board members have to do is select the interest register from the navigation menu, then press the big green 'add interest' button, or the pencil icon to edit one. From there it is self explanatory, with three simple fields: Organisation name, nature of interest and close date. Then hit save and they're done!
Can I see how many interests a particular board member has?
Yes you can! When viewing the interest register, you'll see an option at the top left to sort by user. Next to each user's name is a number, which indicates how many interests they have loaded in BoardPro.
Back to top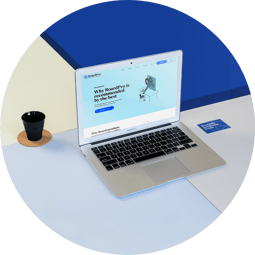 Try BoardPro free for 30 days
Create an agenda, build the board pack, take minutes, assign actions, and load files to the secure repository.