8 Governance Tools Every Board Should be Using
6 min read
Jun 13, 2022 4:22:33 PM
Good Governance takes work, but is there an easy fix? The short answer is no. However, there are a number of simple ways that you can improve the governance of your organisation. In this article, we'll take you through 8 governance tools that every board should be using.
1. A Governance Calendar
Create a governance calendar with your key meeting dates and actions for the year. Having crucial dates and actions in one central document makes for a smoother workflow for each meeting, and overall.
Having a governance calendar is not only useful to keep directors on track, but can also help ensure important legal requirements are met. Some examples of what you might include in your governance calendar are:
Agreed upon meeting dates for the coming year. Why? This increases the chances of regular attendance for board and committee members,
Dates when company tax and statutory obligations are due. Why? This keeps important dates front of mind, which is especially helpful if there are new staff.
Periodic reminders to complete new director sign ups and notification of resignations. Why? This is a legal obligation which must be fulfilled.
Dates when key papers such as the CEO report will be delivered for each meeting. Why? This allows for each party to prepare adequately for meetings, maximising precious board time.
Setting up a governance calendar doesn't have to be hard work. Simply include the item or date, who will be responsible, and the date whereby the item should be completed. BoardPro has an annual work plan template which you can download. You can use this template as a guide for creating your own governance calendar.
2. Role descriptions
Ensure you have agreed upon and written up role descriptions for all board staff. It's essential that each board member, the board as a whole, the CEO, and administrative staff all have a clear understanding of the expectations and duties they are required to perform.
It is important to have role descriptions finalised before recruitment begins, regardless of the role type. Advertising positions with a detailed role description means that applicants are well aware of their responsibilities before they apply. This task is usually led by the chair.
The director position descriptions will likely be your most detailed, and include the legal requirements of directors, as well as specific duties. It's common that the chair would pass on relevant policies to all incoming board members, so this is a great opportunity to also pass on a detailed role description, if they haven't done so already.
Role descriptions for administrative staff are equally as important. Board administrators might be used to different structures from previous work experience, and will need to know the confines of their role. For example, does one board administrator create and distribute the board pack and take the minutes, or are these tasks shared across multiple positions.
3. A Scheme of delegation
Have a clear scheme of delegation (SoG). This ensures there is clarity and no confusion around the actions that staff and committees can take. While a board ultimately holds all decision making powers, they can also delegate to individual members, committees or staff. Most commonly, actions will be delegated to the CEO, or committees which have been formed and sit under the board. The CEO may then further delegate actions to other staff as deemed necessary. It's important to note that when the board delegates an action or function, they are still accountable for what they have delegated.
The best way to have a clear SoG is to create a formal, central document which can be referenced. Your SoG document should include:
A visual diagram demonstrating the hierarchy of accountability
Annotation of the diagram to describe the structure
Detailed account of the roles and responsibility at each level of the hierarchy
An easy to read grid summary, indicating where responsibility lies for strategic decisions
4. A code of conduct
Involve board members in creating a director's code of conduct. Not to be confused with an organisational code of conduct, effective boards also create and agree upon a conduct policy for board members. For maximum effectiveness, each board member should sign off on the code of conduct, demonstrating ownership and commitment.
As a board member, high standards of conduct are expected. Having a formal code of conduct ensures that directors are clear on salient 'boardroom behaviours' such as attendance and meeting etiquette.
The best way to do this is to create a central, formal document. The document should be easy to read and relatively succinct. One suggestion for format is to embolden the overarching policy, then use bullet points below each policy to give examples or further information if required.
5. Board away day
A 'board away day' is just that - a day away for your board to come together in a different way than they do in the boardroom. While the away day can promote bonding and team work, it's also an important time for strategic discussions. Strategic discussions can often go by the wayside in standard board meetings, with more time devoted to specific items and pressing governance discussions.
Usually the Chair and Chief Executive work together to plan the away day, and create an agenda. One idea is to schedule an informal dinner or meal at the beginning of the agenda, and encourage fluid strategic discussion. This can give directors the chance to bounce ideas off one another before a more formal strategic discussion takes place.
Put the date for the board away day in your governance calendar as far in advance as possible. Getting strategic input from as many directors as possible will make your away day extremely valuable.
6. An interest register
Keep a register of interests for all board members and board staff. Depending on where you are, keeping an interest register is a legal obligation. This register should be stored centrally, referred to often, and updated at minimum annually, or when a new board member joins. Having an interest register is important and helps the chair guide the management of any potential conflicts. When interests are already known, impacted parties can be notified before discussions take place, and the conflict can be suitably managed.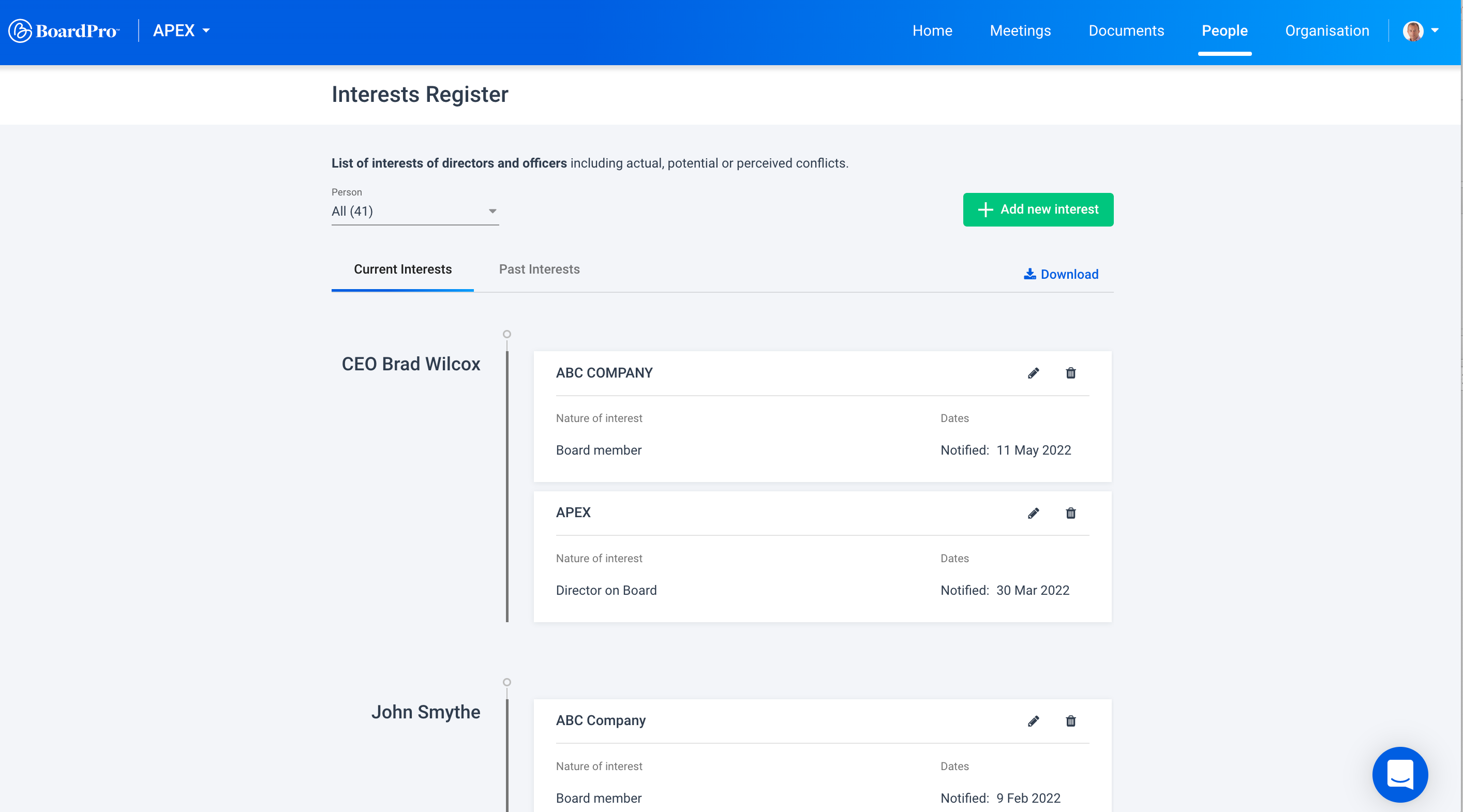 The best way to keep your interest register up to date is to add an interest register agenda item to the beginning of every meeting. This also allows directors the chance to declare any potential conflicts for the meeting's specific agenda items. The BoardPro website provides tools and information to help you manage your board's interests. If your board uses BoardPro, you can seamlessly manage and update your own interests using our in-built interests register.
7. A decision register

Maintain a register of decisions that your board has made. The decision register is a place where all decisions or resolutions made by your board are stored. The benefit of having a decision register is two-fold: it guides good governance and makes finding past decisions easy.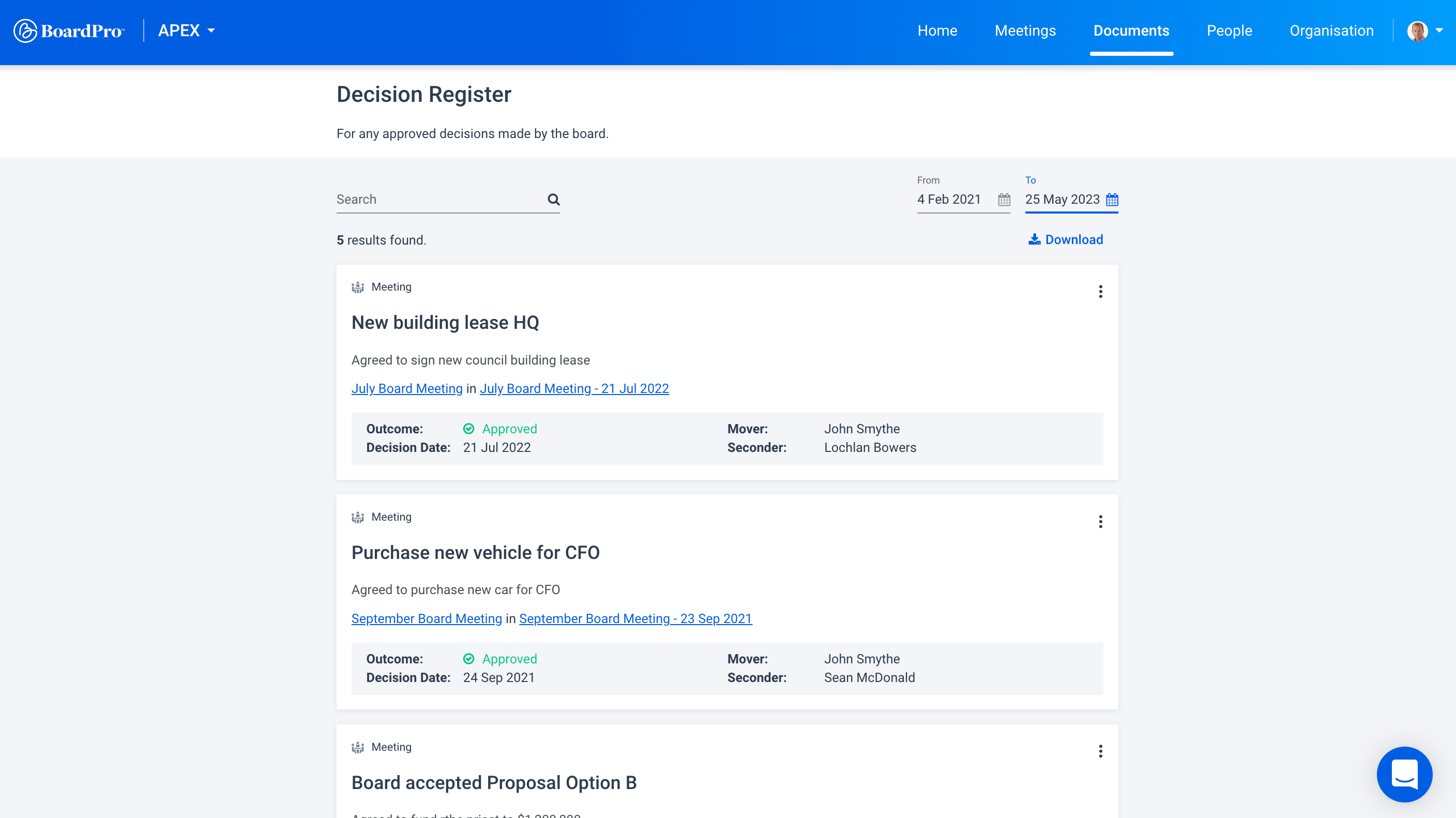 Having access to past decisions, including their discussion and detail, is important for driving good governance within your board. This is particularly useful when a new director joins and needs to refer back to past decisions. Rather than search through emails, you can swiftly find the information necessary. Finding these past decisions is simple if your board uses BoardPro. Decisions are entered in the minutes of a meeting, and automatically feed into your decision register. No need to spend time formatting your decisions, and adding in notes, BoardPro does the hard work for you. Even if your board doesn't use BoardPro, our website has lots of resources to help you get started.
When formatting your own decision register, most important is to include:
Decision title
Decision date
Move and seconder (if applicable)
Decision outcome
Decision details
8. An action register
Build an updated register of actions for your entire board staff. An action register is a fluid list of actions which are assigned to board members and board staff at any one time. This list should be centrally stored and easily accessible, so that everyone knows what they have to do before the next meeting or important deadline.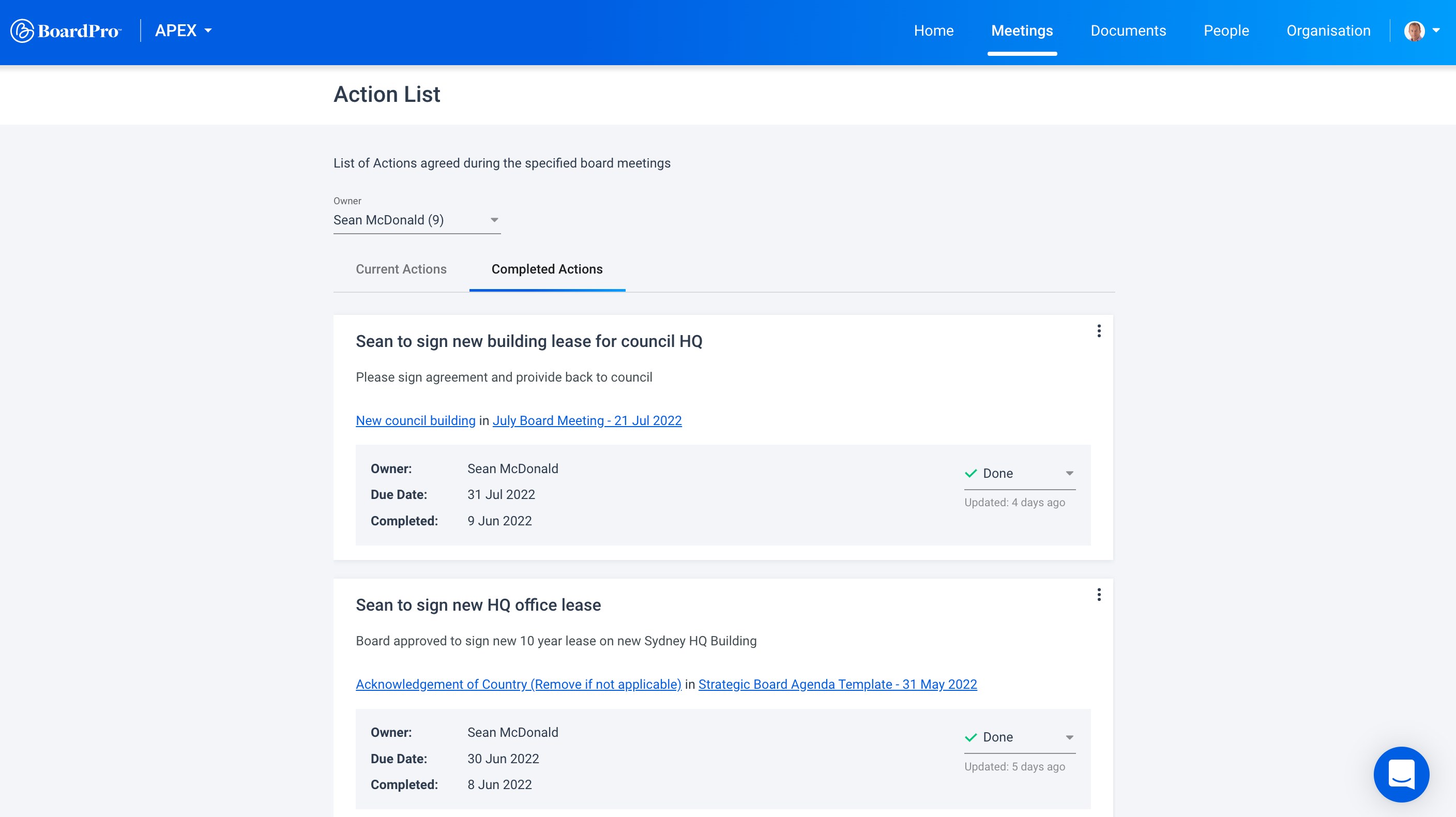 It's common for actions to be assigned to individual board members, the entire board, senior executive staff and administrative staff. For example, board members may be required to take action on a certain matter before the next meeting, and need to be able to refer back to this action and its details. Or, administrative staff may be required to make important amendments to minutes, and redistribute them accordingly. Similar to the decision and interests registers, your action register is best stored centrally in a formal document format. If your board uses BoardPro, actions populate your action register from the minutes, and action owners are notified with one click.
If you're not using BoardPro, we have a number of resources on our website. We suggest that, if formatting your own action list, you include the following:
Action title
Action owner
Due date
Action details
Date action owner was notified