Meet John Page, Managing Director of Boardworks NZ
6 min read
May 18, 2023 12:49:00 PM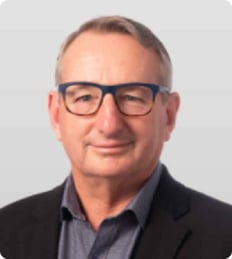 Meet John Page, a seasoned professional with over 20 years of experience in the not-for-profit sector, specialising in the performing arts. With a strong background in management and marketing across theatre and dance, Page brings a wealth of expertise to his role as the Managing Director of BoardWorks. He is recognised for his deep understanding of governance, change processes and structures, which he honed during his time at Sport NZ. He now has seventeen years of being focussed just on governance issues.

Page's journey into the governance world was an unplanned yet natural progression from his extensive experience in the arts. Needing a bit more stable and possibly calmer work environment he ventured into setting up and running Sport NZ's governance program for 12 years. Throughout his time at SportNZ, he collaborated closely with BoardWorks, eventually joining the company in 2018 and buying the brand in late 2020.

Page's philosophy revolves around creating the right conditions for success. He believes in providing resources, fostering a positive culture, and ensuring clarity in market positioning, pricing, and messaging. Drawing parallels between his experience in the arts world and the governance industry, he acknowledges the importance of giving space to people to utilise their skills and creativity within an agreed framework.

With his extensive background and passion for effective governance, read on to learn more about how Page ended up in his current position as well as his insights when it comes to all things governance.

Q: What led you to form BoardWorks?
BoardWorks was formed in 1997 by Graeme Nahkies and Terry Kilmister. I joined in 2018 with the intention of acquiring the company, which has now happened.

Q: What is BoardWorks' unique proposition in the governance world?
We solely focus on governance, nothing else. We are not directors with a side job. During the revamping of our website, we had a discussion and decided that our main goal was to help boards become better boards. In Aotearoa, we stand out not just as practitioners but also as avid readers and writers on the subject. We often write commissioned articles for others and regularly publish through our Good Governance periodical.

Q: What was your journey from GM of a ballet company to finding your way into the governance world? What points of commonality do you find between the arts world and the governance industry (if any)?
My transition to the governance world was unintentional. After working in the arts for over 20 years, I had enough. It's a challenging industry with constant financial issues and significant risk. I was looking for a more stable job and ended up at SportNZ, where I set up and ran their governance program for 12 years. During that time, I closely collaborated with Graeme and BoardWorks, which led me to the next step in my career.

As for commonalities, it's an interesting question. I recently had a LinkedIn exchange with Matz Skoog, the Artistic Director, during most of my time as General Manager of the Royal New Zealand Ballet. We concluded that it's mostly impossible for management to be prescriptive in the approach to creating work. Instead, your role is to create the right conditions that maximise the chances of success. This includes aspects like culture, people, and understanding of the market. In a similar vein, a board ensures the availability of resources, outlines the direction of travel, and provides policy guidance. After that, the management team has the discretion to utilise their skills and creativity to find the right approach.

While it's not a perfect analogy, it offers some utility.

Q: What could the governance industry learn from the arts industry and vice versa? How can the two benefit each other?
This is an easier question. Once the curtain goes up on a new show, there's little you can do beyond that point. It either works or it doesn't. As the great violinist Isaac Stern said, 'If people are not coming to your show, there is nothing you can do to stop them.'

In the governance industry, there's a tendency for boards to neglect their initial responsibilities. Organisations often dive into strategic planning without the board engaging in strategic thought first. Boards waste time on matters that should be clear within the policy if they had spent time on policy creation first. The arts industry exhibits a significant level of discipline. It's tough to reach a level of proficiency that allows an artist to make a living, and maintaining that standard is equally challenging. I've always been intrigued by the unwritten culture of ballet and theatre.
These disciplines have been around for a long time, and there are well-understood ways of doing things. When I worked as a stage manager at the Court Theatre, I was responsible for sweeping the rehearsal room every morning, even if it was already spotless. When I questioned this, the then Artistic Director, Elric Hooper, explained that it needs to be seen as a necessary precursor to beginning the work of the day and preparing the space where the work will occur. It's almost a ritual. While the arts may sometimes appear chaotic from the outside (and often necessarily so), there's tremendous discipline and a commitment to not settling for 'close enough.'

This combination of creativity and discipline is not easy to apply but is useful in any context.

Q: What factors and current trends are affecting the ongoing development of the Nine Steps to Effective Governance framework and resource?
The Fourth Edition of the book was released last year.

BoardWorks has been involved in this work from the beginning, and we are proud of it. The resource is being used in various sectors throughout Aotearoa. In the revision, we addressed emerging forms of governance related to partnerships and collaborations, governance in the Māori world, diversity of thought, and organisational culture. However, our ongoing work highlights the need for further attention to strategic planning, clarity on the board's role, and the understanding and use of policy. These areas present challenges in most settings.

Q: What factors are vital for establishing a positive relationship between CEOs and their boards?
Trust is crucial, as well as role clarity, clear policy, delegations and decision rights.
The board must be committed to ensuring the success of the CEO, as their success translates to organisational success. Boards should avoid unnecessary interference, be self-aware, and check with management to ensure they are indeed adding value.

Q: What changes can Boards implement to increase their effectiveness?
Boards should be intentional about what matters they want to spend time on, and what they need to understand better and plan accordingly.

Q: How should boards be optimising their meeting time?
The majority of the time should be focused on things yet to happen, as you can't change the past.

Q: What are your top tips for good governance within an organisation?
Regularly ask: Why are we here? What value are we adding? Do we have a collective understanding of these matters?

Q: What factors do boards have to contend with today that are unique to the governance sector in 2023?
Directors face increasing demands and obligations under laws and regulations. Some trends include a broader concept of stakeholder accountability, the need for boards to define and oversee organisational culture, the importance of ESG (environmental, social, and governance) matters guided by regulation, the necessity of genuine diversity of thought, the challenges of attracting and retaining talented individuals, the need for digital savviness, addressing co-governance and as applicable obligations under Te Tiriti o Waitangi in Aotearoa.

This journey of understanding and collaboration between both parties is ongoing, and perfect answers may not exist yet, but there is mutual learning potential.

Q: As a BoardPro user/partner, please share why BoardPro's software is such a valuable tool for Boards and organisations.
It's pretty simple. BoardPro's software has been designed with input from governance practitioners, making it a valuable tool. It is reasonably priced and easy to use. In our work, we encounter various platforms, and generally, they don't meet all these criteria.
---
Interested in exploring paperless portal options for your company?
Schedule a demo with our team today and begin to experience a whole new way of meeting.