The Hybrid Boardroom - The Future is Here
6 min read
Jan 20, 2022 12:00:00 AM
As workplaces go back to the new normal after the COVID-19 crisis, many wonder how and where work will resume. Boards are not the exception, so how does this thinking apply to them? Well, research shows that chairs, chief executives, and governance professionals all have an appetite for change, which is why they are embracing the hybrid boardroom model.
The hybrid boardroom combines the best of remote and on-site working, so it's not surprising to see that it is sticking. Organisations are committed to a mindset shift and the hybrid model can provide convenience and enable a higher performing board, which allows organisations to stay ahead. So, what is this model like? And how do you know if your board is ready for it? That's what we'll explore today.
Hybrid Board Calendars & Hybrid Board Meetings
An important thing to understand about the hybrid model is that there's a difference between hybrid board calendars and hybrid board meetings. Hybrid board meetings consist of some attendees joining in person and others joining remotely, while hybrid board calendars consist of a mix of entirely remote and entirely on-site meetings throughout the year.
It's essential to make this distinction because hybrid board meetings require a lot more effort, especially from the chair, and it could lead to a two-tier board where some directors can't fulfil their duty of challenge. After all, if you've ever had to jump onto a board meeting via phone call because your flight got cancelled, you know it doesn't really work.
Why Bother with Hybrid Board Calendars?
If what boards want is to give everyone the same kind of treatment, then why would they adopt hybrid board calendars? To answer that, it's important to understand that each format has clear pros and cons for boards to consider. Physical board meetings are effective at fostering relationships and stimulating clear thinking and creativity.
Both of these things are vital to a well-functioning board and they have been missed during the COVID-19 pandemic. However, despite—or maybe because of—these advantages, physical board meetings are very time-consuming. Remote board meetings are not, which is why they have been such a welcome surprise for directors who don't have an abundance of time (which is most of them).
When it comes to remote board meetings, there's an unspoken rule. Attendees won't be kept longer than necessary as long as there's a focused and sharp discussion. Remote meetings also provide boards with the opportunity to rethink what they should be discussing.
Should everything be discussed by the entire board in one formal and long meeting? Or can certain items be tackled online, have meetings centred around a specific topic, or work in smaller groups? The hybrid model gives boards the opportunity to experiment with those options and find what works best.
What Does a Hybrid Calendar Look Like?
A hybrid board calendar is about more than just holding half of the meetings online, it's also about making sure the discussion matches the medium. For example, just because a document has the word "strategy" in its title doesn't mean it needs to be discussed in person.
As a rule of thumb, "steering" discussions should be held at physical meetings while "supervising" discussions can be held remotely. Over 75% of boards agree and apply the following division:
Physical Board Meetings
They are best for:
Strategic decisions, such as establishing strategy, approving proposals, etc
Presentations by people who are not on the board, such as stakeholder representatives, heads of local markets, etc.


Remote Board Meetings
They are best for:
Monitoring strategic progress, such as deep dives into projects, macro developments, etc.
Performance updates, such as financial reports, operational reports, people updates, etc.
Governance updates and board administration, such as Minutes review and approval, risk and compliance, etc.
When creating a hybrid board calendar it's also important to consider the frequency of the meetings and their length. Physical board meetings should be longer, so they require more organisation and planning, while remote board meetings should be to the point and deal with a handful of items at a time.
Although 85% of boards have decided to stick to a remote board calendar (at least some of the time), 1 in 3 boards hasn't decided what its board calendar will be like and their time is running out.
Boards that are unable to let go of the old ways or are delaying too much, risk missing the opportunity to introduce a more efficient and effective method of operation. That may cost the organisation a startling amount of money and a wealth of opportunities that it may not recover from.
How to Make Sure Your Board Is Ready for the Future
Though the hybrid boardroom model has proven to be very beneficial, you still need to make sure it is the right move for your board. To do that, you have to answer these 5 key questions:
1. Are the ground rules clear?
If your board is to enjoy the best of both worlds, it's vital to ensure the rules of the game are crystal clear to all members. This model won't work for your board if people don't follow the rules and the group is not either 100% remote or 100% present.
It's important to note that being 100% present means taking full advantage of the time members spend together. So, they need to get to know each other and there should be time for that in the board calendar. In a hybrid boardroom, organised fun will take a whole new meaning.
2. Is your boardroom technology well-established?
The success of a hybrid model will depend greatly on the technology available, so it needs to be more than just a quick fix. Many organisations had to switch to digital solutions too quickly during the pandemic. That means they had to rely on quick fixes and cut a bunch of corners.
If that was the case for your organisation, is that system still working? What impact has it had on the team so far? Adopting a hybrid boardroom model requires you to provide the best possible tools, otherwise, it won't be sustainable. Over 1,500 companies are using BoardPro for their needs and it has proven to be super effective and valuable.
3. Is your board calendar able to unlock the power of hybrid board meetings?
As we discussed before, a hybrid board calendar will only be effective if there's a clear understanding of what each agenda item requires. A board calendar needs to do a lot more than just provide an overview of the plans for the year. It should be more specific than that and provide the board with the confidence it needs to fulfil its duties.
4. Are the board documents supporting the conversation?
Remote board meetings work best for short and focused discussions, but that is only possible if the supportive materials are also concise and focused. There's a simple formula to make sure the board documents meet these requirements.
First, provide the authors of the report with a brief, not just the title of the agenda item. With a detailed brief, they will be able to determine what questions the board is thinking about. Second, provide them with templates, guidance, and training so they can produce board documents that are truly supportive and insightful.
5. Are you providing your board with information or only data?
A narrative is nothing without insightful data to go with it. However, boards are often blinded by too much data. For the board to be able to see what really matters, they don't only need data, they need insight. That's where a well-done one-page CEO report becomes very useful as it provides information about the organisation and highlights the strengths and weaknesses.
How BoardPro Drives Boardroom and Administrative Efficiency
BoardPro, allows easy management of board information, while also enabling board members to fulfil their responsibilities of lifting organisational performance. Boards operate in a series of demanding, interdependent cycles. The functionality and workflow of BoardPro is designed to support boards as they manage the responsibilities of these complex and mission-critical cycles.
Our trusted technology streamlines the day-to-day work of board management, and delivers insights and information boards need to mitigate governance risk and drive better outcomes. BoardPro strives to provide solutions that meet these evaluation criteria. Our sole focus in life is to address the challenges small to medium sized businesses and Not-for-Profits face with board governance.
The Board Meeting Cycle
Board governance is oriented around a regular meeting cycle that can be quarterly, bi-monthly or monthly. BoardPro helps administrators and board members prepare for and hold the meeting as well as manage follow-up and follow through activities post meeting. Features include:
Drag and Drop agenda Builder
Online board packs and secure document delivery
Board member annotations and private notes
Workflow tools for post meeting tasks and follow-up
Minute taking
Archives and full search capabilities
Secure document repository and private governance folders.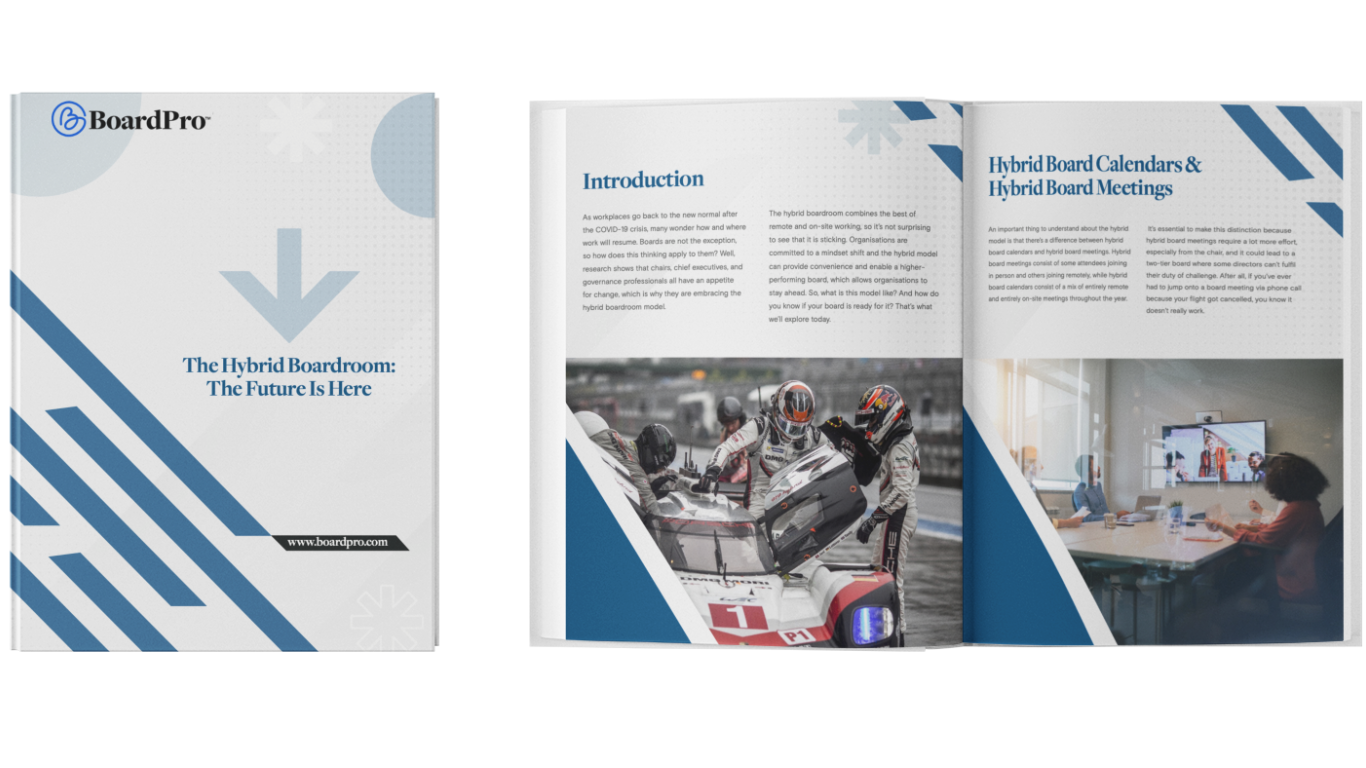 ---
If you're looking for a tool to streamline your Board processes, check out BoardPro - an all-in-one software solution designed specifically for Boards and busy CEOs!
Schedule a demo with our team today and begin to experience a whole new way of meeting.