Surviving Your First Board Meeting

8 min read
Mar 24, 2022 12:00:00 AM
The first time attending a board meeting can be a bit nerve wracking. Despite the fact that you've probably been invited to make decisions with the upper echelons of an organisation because of your impressive skill set, you might still feel like it's your first day on the job – awkward, lacking confidence, unsure of yourself. That feeling is perfectly normal, whether you're an executive presenting to the board for the first time or a first-time director.
We talked to Chris Ridd, chairman of the board of MedAdvisor and non-executive director and adviser on the board of Compass Education, about what it takes to survive your first board meeting.
Know what to expect
Board meetings are typically every two to three months and they can last anywhere from two to six hours. If the meeting is in person, it'll likely be catered for and whoever is running the show will plan for a few breaks. Those won't be long breaks though -- just enough to get some food in or head to the bathroom because the goal is to be as efficient with time as possible. Due to the pandemic, many board meetings have moved online, and we all know that means the formalities of lunchtime and break time often get overlooked. Don't be afraid to call for breaks if you need one!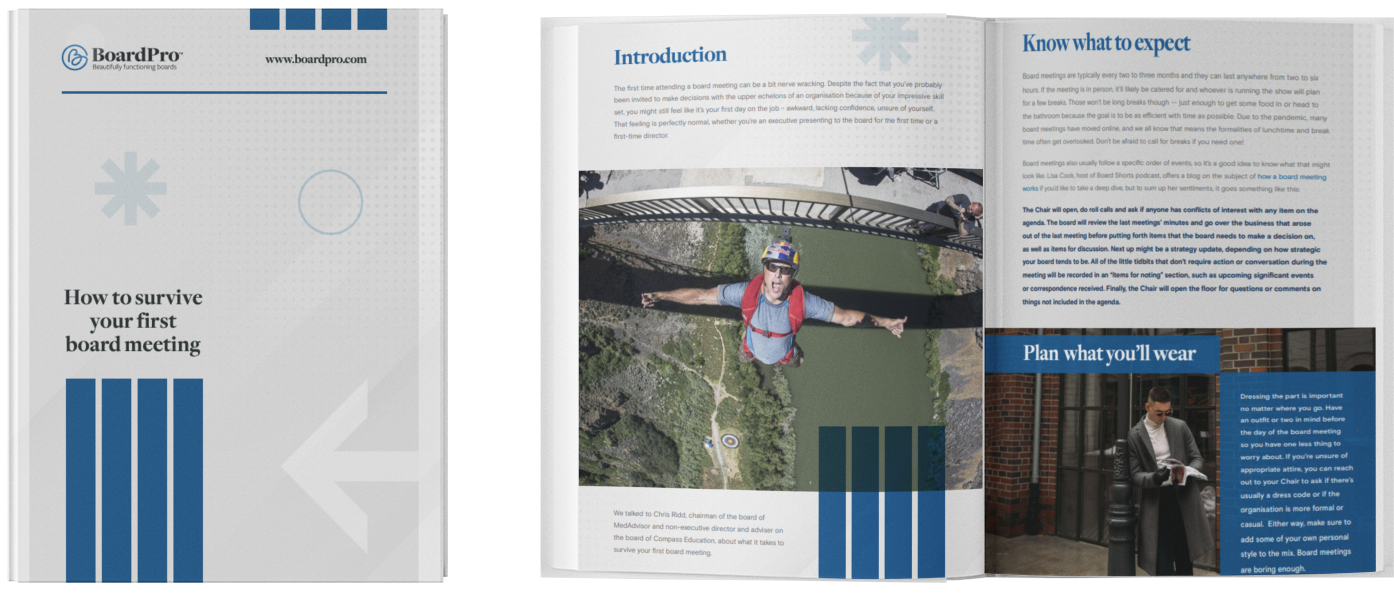 Board meetings also usually follow a specific order of events, so it's a good idea to know what that might look like. Lisa Cook, host of Board Shorts podcast, offers a blog on the subject of how a board meeting works if you'd like to take a deep dive, but to sum up her sentiments, it goes something like this:
The Chair will open, do roll calls and ask if anyone has conflicts of interest with any item on the agenda. The board will review the last meetings' minutes and go over the business that arose out of the last meeting before putting forth items that the board needs to make a decision on, as well as items for discussion. Next up might be a strategy update, depending on how strategic your board tends to be. All of the little tidbits that don't require action or conversation during the meeting will be recorded in an "items for noting" section, such as upcoming significant events or correspondence received. Finally, the Chair will open the floor for questions or comments on things not included in the agenda.
Plan what you'll wear
Dressing the part is important no matter where you go. Have an outfit or two in mind before the day of the board meeting so you have one less thing to worry about. If you're unsure of appropriate attire, you can reach out to your Chair to ask if there's usually a dress code or if the organisation is more formal or casual. Either way, make sure to add some of your own personal style to the mix. Board meetings are boring enough.
Research other board members and meeting attendees
Board meetings are usually populated with members of the board of directors and the company's executive team. It's a good idea to do your research on these people before your first board meeting.
"If nothing else, do this out of courtesy," said Ridd. "Understand who's who and their different roles, look at their backgrounds and skills. Certainly when you're joining a board, I think it's really important to understand who else is on the board and why they might be on the board. Some might be shareholders and others might be independent board directors, and you'll want to consider, or at least have some idea, of the potential dynamics coming in."
Make some time to connect with other board members
You can also feel free to reach out to directors before and after the meeting if you want to start cultivating healthy working relationships. This can set the stage for dynamic team building, which is a pretty important thing to cultivate when you consider board members only a handful of few times each year.
Ridd says it's even a good idea to try to meet up in person before your first meeting for a coffee.
"It helps break the ice and develop the relationship," he said.
Study the board pack, as well as some previous packs
"It seems like an obvious one, but make sure you set aside adequate time to be able to really study the board pack, which can be quite large," said Ridd. "And if you're joining the board for the first time, ideally go back over the previous half dozen board packs to really get a sense of what the issues have been and how the board is operating."
A board pack is the collection of documents and reports presented to board members before the meeting, so you can reach out to other directors if you'd like to collect some previous packs for your perusal. If you are using a board portal such as BoardPro, all meeting documents including the board pack, minutes and reports are available in the document library, which makes this task very easy indeed. Ridd says this will help you get a good sense as to how effective the board is in decision making, as well as what issues the board is grappling with. You can also do your research on the organisation itself and the market so you have enough context to feel confident going forward. In the end, being over prepared is never a bad thing, especially if you're trying to settle your nerves.
Remember why you're joining the board
"If you're joining a board, you really want to understand why you're joining and what you want to achieve, and I would make that clear from the outset of the meeting," said Ridd. "Be prepared to tell the other directors what you're here to do and what you want to contribute. There are a lot of people that will probably read this article who are joining boards for the first time, particularly in the not-for-profit space where they're wanting to help achieve a great social objective."
Remembering your 'why' will not only give you a sense of purpose, but it should also in still you with confidence if you're feeling nervous or out of place. If you're a new director, remember that you were voted in because you're bringing unique skills, background and know-how to the table.
Don't fear potential conflict
During your first board meeting, you might be privy to some debates or disagreements, particularly when you're dealing with challenging topics, and there's nothing wrong with that (as long as everyone is still being civil). You can expect effective boards to have a bit of conflict, and you actually want that because it means there's diversity of thought which leads to better business outcomes.
"In the lead up to board meetings where you know there's going to be some challenges or differences of opinion, it's healthy to discuss it with other directors so you can come to the meeting without anyone feeling defensive or unheard," said Ridd. "You have to ensure that there's trust and respect between directors otherwise the board can become quite dysfunctional."
Make your presence known, but don't be a tall poppy
"At the meeting it is a balance between absorbing and getting context but also adding value," said Simon Telfer - Founder of Appoint Better Boards. "Typically err on the side of two ears and one mouth for the first couple of meetings. Ask questions rather than make statements or judgements. Share experiences of what you have seen on other boards."
Consider some formal education
The not-for-profit space does not always provide would-be board members with the same level of knowledge and comfort around governance as the commercial space does. Without a corporate background, people who come from not-for-profits might find subject matters of a board to be a little bit daunting.
"It was pretty intimidating sitting on the board for the first time thinking, 'Holy crap, these are all the things I've got to think about as a director, these are my obligations, I can go to jail if I don't exercise caution or if I'm negligent on specific issues," said Ridd. "I think it's really important coming into a board that you understand your fiduciary duties and your obligations, and I'd say there are a lot of people coming from not-for-profits that perhaps have knowledge gaps on this."
Ridd recommends looking into a certificate program to prepare so you're less overwhelmed by the procedures of a board meeting and more primed to handle the tasks at hand. Ten years ago, when Ridd joined online accounting software company Xero as managing director, he took the Foundations of Directorship course at the Australian Institute of Company Directors, a three day program that helps directors, senior executives and managers get a foundation of the duties and responsibilities of boards and directors. This particular program covers things like duties, meeting processes, finance, strategy and risk, but there are others that go over similar topics. Get On Board Australia, Lisa Cook's organisation that caters specifically to company director development and education, also offers a Boardroom Bootcamp and a range of other courses to help directors and executives understand the functions of a board.
Ask for a debrief after the meeting
It's not a bad idea to ask the chair or another director to debrief you after your first board meeting, says Simon Telfer.
"Ask things like: Was that a typical board meeting? Have I interpreted the board dynamics correctly? How should my contribution evolve for next time?" he said.
Give yourself time to reflect once it's all said and done
"Too often, you do all this preparation for board meetings and then it finishes and people don't speak again until the next board meeting," said Ridd. "You've got to make sure that the conversations keep going, that there's continued momentum, which is why you have subcommittees and other things, but you should also make time yourself to reflect on the meeting. There are a lot of complexities with being on a board and some of the issues that come up, and you can't go through them all in one board meeting."
About Chris Ridd
Chris is non-executive director, advisor and investor in various fast-growth, Australian-based startups. He has more than 30 years' experience in the IT industry including 5 years as Managing Director for Xero Australia and 15 years at Microsoft in various senior executive roles. He led Xero's expansion in the Australian market from a small startup to become the largest online cloud accounting software company, growing from seven staff and 3,500 customers, to over 300 staff and 320,000 paying customers. In 2015, Chris was awarded The CEO Magazine's Financial Services Executive of the Year & Runner Up in Managing Director of the Year.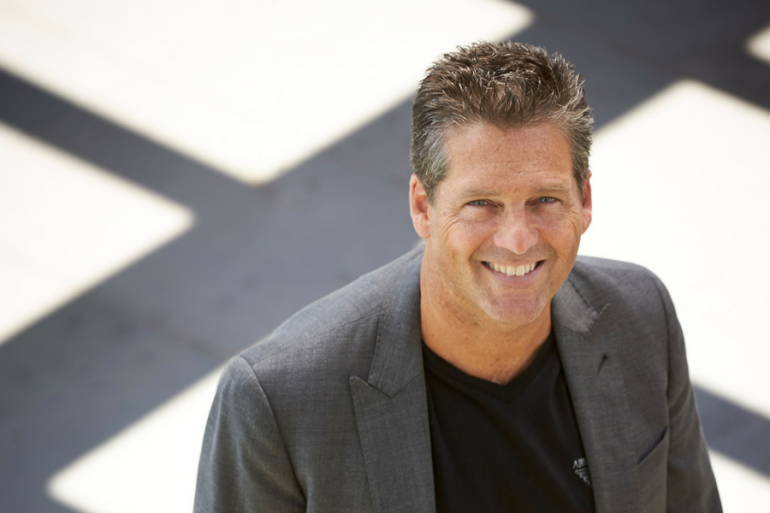 How BoardPro Drives Boardroom Efficiency
BoardPro, allows easy management of board information, while also enabling board members to fulfil their responsibilities of lifting organisational performance. Boards operate in a series of demanding, interdependent cycles. The functionality and workflow of BoardPro is designed to support boards as they manage the responsibilities of these complex and mission-critical cycles.
Our trusted technology streamlines the day-to-day work of board management, and delivers insights and information boards need to mitigate governance risk and drive better outcomes. BoardPro strives to provide solutions that meet these evaluation criteria. Our sole focus in life is to address the challenges small to medium sized businesses and Not-for-Profits face with board governance.
The Board Meeting Cycle
Board governance is oriented around a regular meeting cycle that can be quarterly, bi-monthly or monthly. BoardPro helps administrators and board members prepare for and hold the meeting as well as manage follow-up and follow through activities post meeting. Features include:
• Drag and Drop Agenda Builder
• Online board packs and secure document delivery
• Board member annotations and private notes
• Workflow tools for post meeting tasks and follow-up
• Minute taking
• Archives and full search capabilities
• Secure document repository and private governance folders
We are passionate about the work of small to medium sized businesses and Not for profit sector, this drives how we develop the BoardPro solution.