Unveiling the Four Key Elements of an Effective Board Induction Program
7 min read
Jul 24, 2023 2:00:56 PM
The day you join the leadership team on a board of directors is the day you become liable for the decisions of the board. Preparing for this responsibility, ensuring you are confident, enthusiastic and ready for the challenges that lay beyond the first board meeting, is the function of a well-designed board induction program. This is a crucial process which routinely suffers from a breakdown in implementation. No matter how experienced (or not) you are as a Director, the first 100 days sets the scene for your tenure.
The four key elements
There are four key elements that create a high performing Board Induction Program. These key elements need to be embedded into the Induction program
It is mandatory
The process and outcomes are formally monitored by the

Governance committee or any equivalent committee
Mentors are assigned to each new Director, with a changeover of

mentors after 6 months
The Induction program is at least 12 months in duration
Getting the Most from your First 100 Days
1. Understanding and using your strategic plan
Your Strategic Plan should be part of your induction material (either hard copy or online). Have a glance through your Strategic Plan and focus on the key headings which are likely to be called strategies, goals or objectives. Become familiar with the key, high-level strategies so you can use them to shape your questions and conversations.
Strategic questions to consider before and during your Board meeting
Where in the strategic plan does this fit?
How does that help us in our strategic direction?
How does that input into strategy X?
Going forward, what are the strategic issues around what we are discussing?
"This was a great reminder about how the strategic plan should shape the board meetings and discussions, and how we as directors can add value by asking questions that relate back to the plan. Helps me to pick out framework from the fairly bewildering complexity of my first two meetings; which is reassuring."
2. How to read and use your vision statement
Your Vision Statement (sometimes called a Purpose or Mission Statement) can usually be found on your Strategic Plan, website and/or Annual Report. Get a copy of your Vision Statement close to hand so you can see how to use it to help shape your questions and conversation.
Download our special white paper and learn how to gain the most value from your board members during the first 100 days
Strategic questions to consider before and during your Board meeting
Is our Vision statement effective?
How do we actually use our Vision statement?
What are the 204 key intents of our Vision?
What do the key intents mean to me?
What do the key intents mean to the Board?
How is this strategy going to help us with our vision statement intents?
"Helped me to think about what are the key elements of our vision e.g. rural and regional, women, all ages, optimal health and wellbeing + purpose. Good to think about keeping these commitments in mind to be clear about WHY we are meeting."
3. How to use your board policies
Find a list of your board policies, and the policies themselves, Understanding and using your board policies enables you to fulfil your legal obligations and provides a framework for how you and your organisation should and must function. If in doubt, ask your CEO for more details on your policy framework.
Strategic questions to consider before and during your Board meeting
Which policies have been referenced or used in the past?
Do I understand this policy?
Does this policy comply with relevant legislation?
How does this add strategic value to our organisation?
"Made me realise that I was expecting to gradually come to terms with Board policies throughout the year BUT realising after our last Board meeting that with the organisations 3 year review process means I won't see a lot of the policies in the year ahead. So now thinking I will ask which 3 policies are key starting point as a new Board member."
4. Extracting strategic insights from your financial reports
Find your profit and loss statement (sometimes called income and expenses statement), your balance sheet and your cash flow (some organisations may not have a cashflow, check with your CEO). Refer to them to start putting into practice some of the questions explained below.
"I really enjoyed this one - quite smart to actually chase the reason for variances - it's almost like being on the lookout for issues even before they become apparent."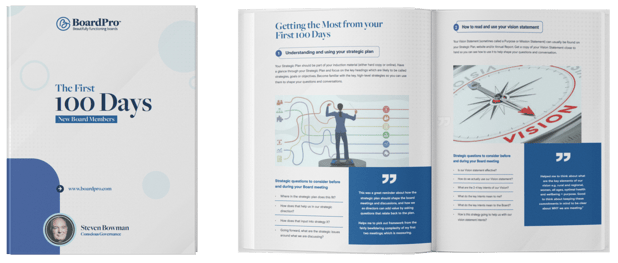 ---
If you're looking for a tool to streamline your Board processes, check out BoardPro - an all-in-one software solution designed specifically for Boards and busy CEOs!
Schedule a demo with our team today and begin to experience a whole new way of meeting.