The Argument for Board Software

5 min read
Jul 25, 2023 11:20:46 AM
Online tools focused on organisational governance work have grown dramatically in the last 5 years. This category is known as "board software or board portals" (The terms are interchangeable). Board Software enables board directors and key staff members to create agendas, take minutes, access digital governance documents, and attend to post meeting tasks for their board or committee meetings.
The dramatic growth in this category has been coupled with organisations running leaner and increasing productivity. They are understandably demanding more from their digital tools. The board software market has evolved from basic online repositories of board documents to governance management platforms that digitise routine governance processes, freeing board members from administration to focus on the organisation's strategy.
The importance of delivering better information to leaders is impacting organisations in every industry. Still, many boards – particularly in the Not-for-Profit sector and Companies with under 100 staff – have not yet crossed over the digital threshold. They are stuck in time with error-prone, manual processes. These boards' adherence to traditional communication methods such as post and email can increase risk as the fast pace of technological, economic, and political change requires leaders to be nimble.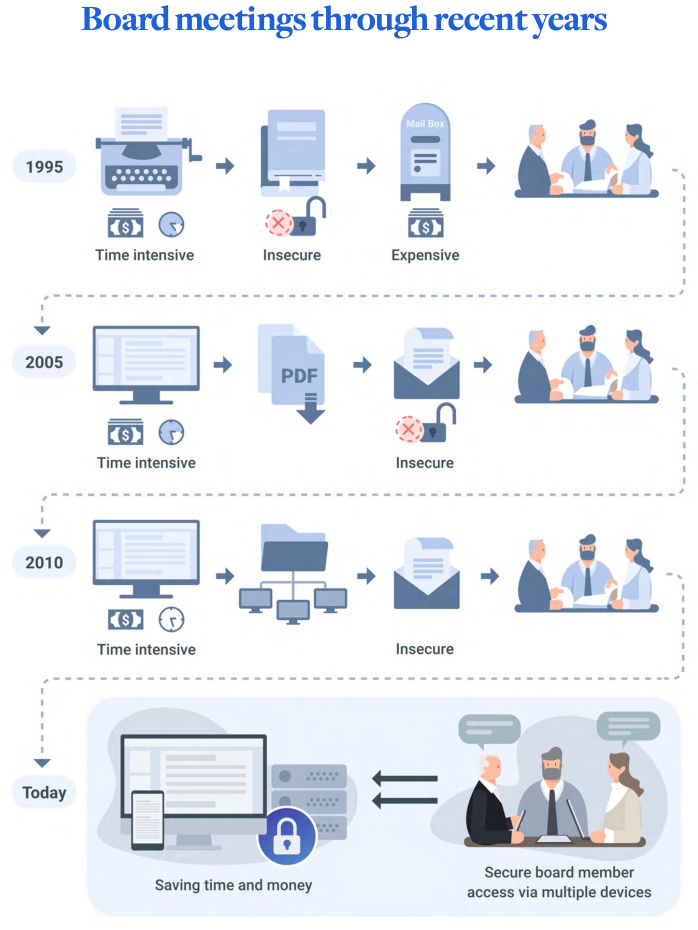 Benefits of board portal software
Better Governance from Improved Efficiency
Boards that still rely on hard copies of meeting materials face obstacles. Last-minute edits to board documents before the meeting are common. Staff must then re-print the documents and resend the updates manually. In the digital realm, the administrator must reformat and compile the documents and send out insecurely via email or save to a shared folder such as Dropbox or Google Drive. Board packs can range from 50-500+ pages, and the time involved in reproducing new documents means staff members need longer lead times to deliver board materials.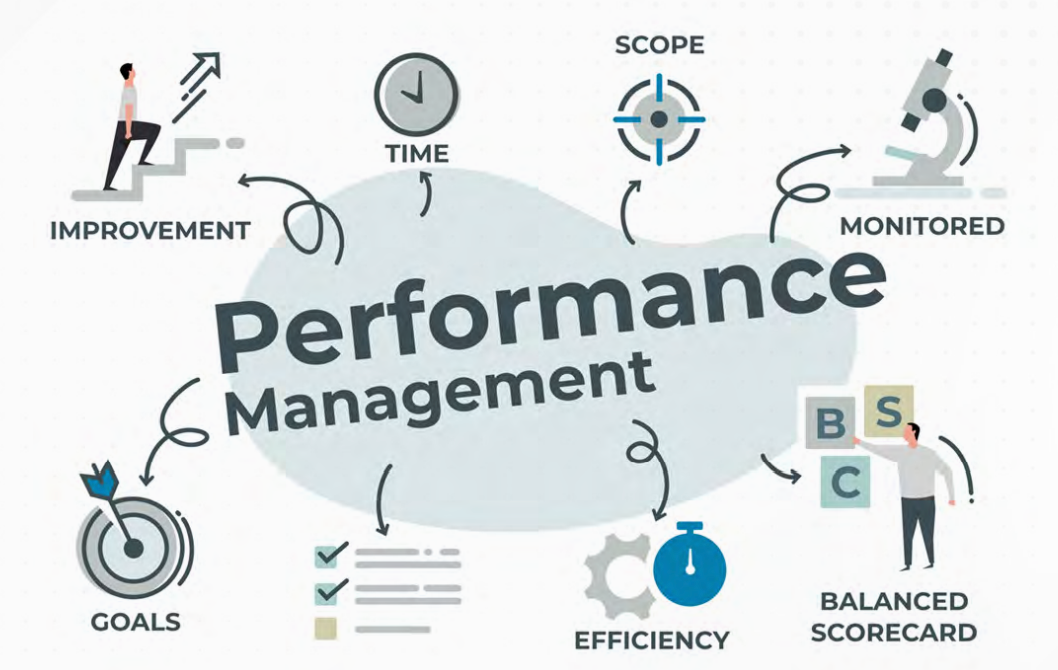 Board Software increases the efficiency of this process dramatically. Posting board materials in an online portal means board members and executives will have access to the most current information, the moment it's published. Additionally, having a single place where directors go to access information reduces the confusion that can occur if multiple versions of the same file have been sent out. The more advanced Board Software providers enable organisations to create a library of governance documents for board member reference: e.g. committee charters, board policies, strategic plans, annual reports, and other documents board members regularly need.
Improved Board Communication and Collaboration
Board Software promotes better communication between board members, executives and other key stakeholders. They allow continuous updates to the agenda & board pack prior to its formal publication before the required number of days before the board meeting. Some Board Software providers have mobile apps that give directors a secure way to access files and annotate their board packs from iPads, Tablets and smartphones.
Greater Security
With increasing data breaches in the past few years, cyber risk now represents a greater source of enterprise risk for Not-for-Profits and businesses alike. Directors and Executives are in the crosshairs of hackers, who recognise these leaders rarely receive adequate cybersecurity training or oversight. Secure Board Software providers keep board documents and communication confidential. While not all vendors approach security the same way, some providers offer strong data encryption, secure redundant server locations, end-to-end encryption in transit, encryption of documents at rest, data recovery options, and security audits.
How to select a board portal provider
Since boards can be slow to adopt new approaches, the solution you choose might be with you for many years so it pays to make the right choice from the start. But with so many options available, they don't know what the evaluation criteria should be. What is the reputation and expertise of these Board Software providers? How have their solutions been tested in real-world situations? What is their track record? How will your board's needs evolve? This paper provides suggestions on how to make this important decision.
What to look for in a Board Software provider
1. Governance Focus
Good governance matters! When board members have access to the right information at the right moment, they are better able to ask insightful questions that lead to stronger organisational performance. Organisations that are governed well are able to create more positive outcomes for all their stakeholders.
Considerations:
Does their solution offer specific governance-enhancing features, such as meeting management, minutes creation, agenda builders and post meeting workflow tasks and actions?
Has the provider demonstrated any expertise in governance topics?
Does the provider offer training and support to help your organisation and align the usage of the software to your specific governance goals?
Does the vendor have a track record of releasing product enhancements that respond to changes in governance requirements?
2. Features & Functionality
At a basic level, Board Software solutions should allow; board members to securely access meeting materials, administrators to create meeting agendas and board-packs, take minutes and assign post meeting tasks.
In looking to adopt a Board Software solution for the first time, consider your board's current needs and then seek a vendor that has a track record of being both responsive to customer suggestions, as well as creating innovative solutions to governance challenges.
3. Security
Protecting confidential information and ensuring data privacy is a prerequisite across all industries – especially for Not-for-Profits, which are often under-resourced and can become easy targets for hackers.
Implementing a secure Board Software solution helps ensure your board's sensitive documents remain secure, it can also signal to the stakeholders that the board takes cyber risk seriously. When evaluating providers, look for vendors that have a demonstrated data security track record.
4. Ease of Use
Most providers will purport their solution is easy to use – but is it? A fully-featured board portal solution will increase your board's efficiency and effectiveness, but if it is too complex, it won't be fully adopted and will become a waste of time and money.
There is a balance between ease-of-use and Fort Knox type security. Does the technology create complexity rather than solving it? Select Board Software that is easy to deploy, adopt, use, and adapt.
How boardpro drives boardroom and administrative efficiency
BoardPro, allows easy management of board information, while also enabling board members to fulfil their responsibilities of lifting organisational performance. Boards operate in a series of demanding, interdependent cycles. The functionality and workflow of BoardPro is designed to support boards as they manage the responsibilities of these complex and mission-critical cycles.
Our trusted technology streamlines the day-to-day work of board management, and delivers insights and information boards need to mitigate governance risk and drive better outcomes. BoardPro strives to provide solutions that meet these evaluation criteria. Our sole focus in life is to address the challenges small to medium sized businesses (SMEs) and Not-for-Profits face with board governance.
The Board Meeting Cycle
Board governance is oriented around a regular meeting cycle that can be quarterly, bi-monthly or monthly. BoardPro helps administrators and board members prepare for and hold the meeting as well as manage follow-up and follow through activities post meeting. Features include:
Drag and Drop Agenda Builder
Online board packs and secure document delivery
Board member annotations and private notes
Workflow tools for post meeting tasks and follow-up
Minute taking
Voting
Archives and full search capabilities
Secure document repository and private governance folders
We are passionate about the work of the SME and Not for profit sector, this drives how we develop the BoardPro solution. BoardPro's solution supports a modern approach to governance, powering boards' interdependent responsibilities across these ongoing cycles.
---
If you're looking for a tool to streamline your Board processes, check out BoardPro - an all-in-one software solution designed specifically for Boards and busy CEOs!
Schedule a demo with our team today and begin to experience a whole new way of meeting.