How to run an effective board meeting

9 min read
Jan 6, 2022 12:00:00 AM
Often, Boards struggle because their members are not provided with materials ahead of time, their Board environment does not foster participation and conversations frequently get off track. It can be easy to lose sight of company goals. This is particularly true if the makeup of your Board functions as an echo-chamber or if your Board struggles with organisation. Staying up to date with the agenda is difficult amidst a pile of papers, and no one wants to bring fresh, new ideas to the table when they feel they will not be met with support nor encouragement.

If you are looking to improve your Board meeting strategy, you are in the right place. Below, we have compiled advice for time management in the Boardroom so that you can take full advantage of your time together as Board members and achieve your goals.
Table of Contents
The benefits of an effective Board meeting
Better decision making
Increased Efficiency and productivity
Clear Communication and collaboration
Preparation is key
Prepare an agenda
Create space
Distribute material
During the meeting
Facilitate discussion and decision-making
Post meeting
Follow up
Keep accurate records and reflect
The Board Portal advantage
Conclusion
The benefits of an effective Board meeting
1. Better decision making
Outlining an agenda before your Board meeting helps your team stay on task, meaning that key issues are promptly addressed and pressing problems are prioritised.

Boards are particularly strengthened by incorporating a variety of opinions. Having Board members from diverse backgrounds come together to collaborate for the benefit of the organisation will offer you the strongest basis on which to form key opinions. You should encourage open dialogue amongst team members, particularly if there is a variety of opinions present. This means that you are exposed to the full picture and can practise exercising respect in a debate setting.

Sandwiching an efficient meeting between clear planning and responsible follow-ups guarantees good results for your company. You will find that your goals are more easily reached when you increase Board effectiveness.

Meetings present an opportunity for you to tackle key company issues as a team, bringing together brain power to find the best possible solution. You are literally shaping the organisation's destiny through your decisions, steering them through storms and to still waters. Done right, Board meetings can profoundly shift how your organisation conducts itself and the route that it is on.
2. Increased Efficiency and productivity
An effective Board meeting provides direction to your Board members on what needs to be accomplished, by when and in what order. It helps to prioritise and distribute the responsibilities of running an organisation. Clarity is key so that everyone is free to take responsibility for their part. Regular check-ins and efficient meetings create a culture of accountability and mutual support where everyone is focused on problem-solving and innovating to reach overall goals.
3. Clear Communication and collaboration
Trust is vital to your Board, and encouraging team members to work together is one of the fastest and most effective ways to establish said trust. You should be sure to create an environment that values open communication and honesty, even and especially when opinions differ. The more that your Board can collaborate, the easier it will be for it to reach its goals, both short- and long-term. It also eliminates the risk of stratification between ranks and positions within the company, giving equal opportunity and weight to all Board members' input.

So, how can you go about achieving these benefits and increasing the effectiveness of your Board? Read on for our top tips.
Preparation is key
Prior to deliberation or decision-making, it is essential to scrutinise all pertinent reports and updates. This includes financial statements, progress reports on projects or initiatives, customer feedback surveys, etc. By doing this first, members of the board can be better informed when discussing topics during the meeting.
1. Prepare an agenda
All Board meetings should take their inspiration from a pre-established agenda. This ensures that Board members stay on topic – no matter how heated the discussion – and that valuable time is never wasted.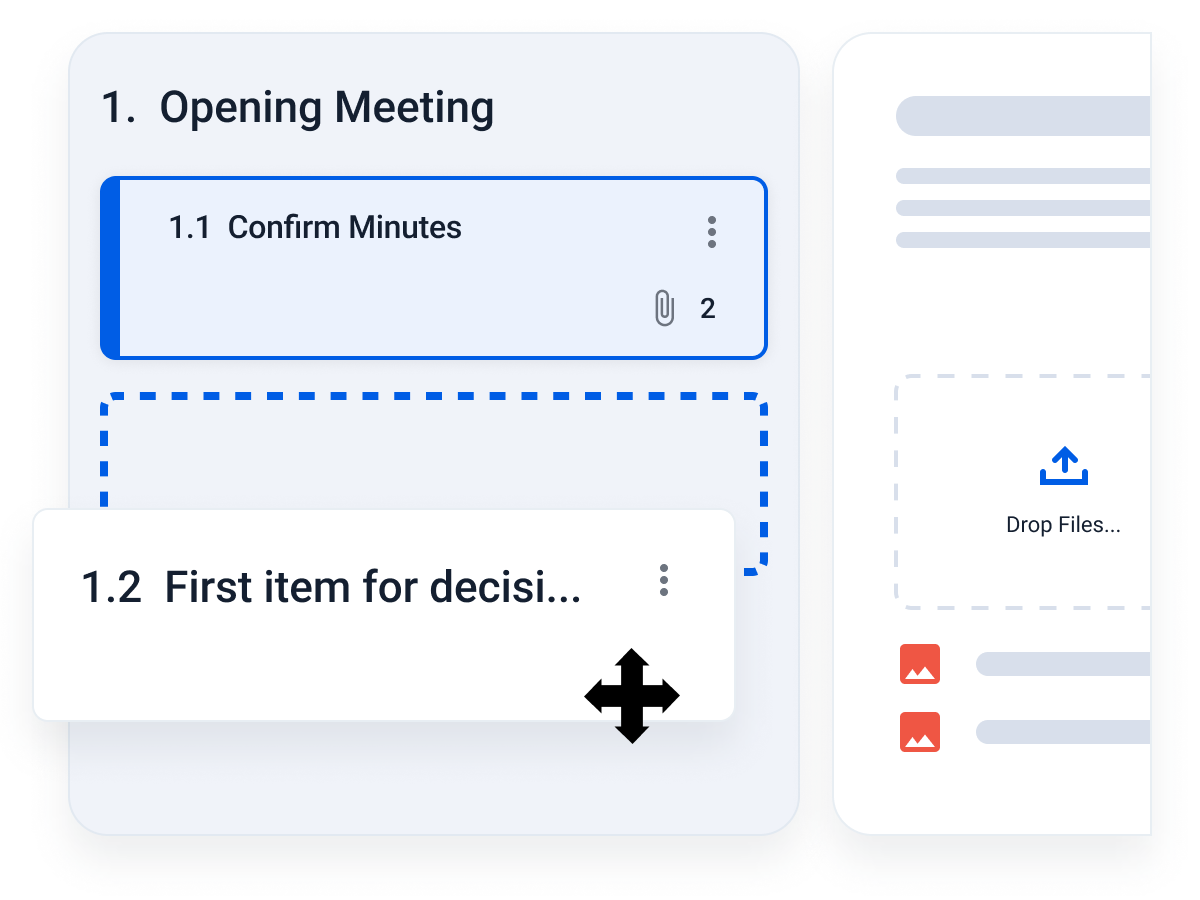 Agendas can help regulate discussions so that all members feel heard and that their opinions are valued equally in deliberation. On a practical level, your agenda should include things such as committee and staff reports, pressing decisions and anything else requiring immediate action during the meeting.
2. Create space
A key part of a good Board meeting is a Board room. Although it may seem self-evident, your Board needs an appropriate space in which to conduct their work. This should be somewhere that invites collaboration and is separate from distractions.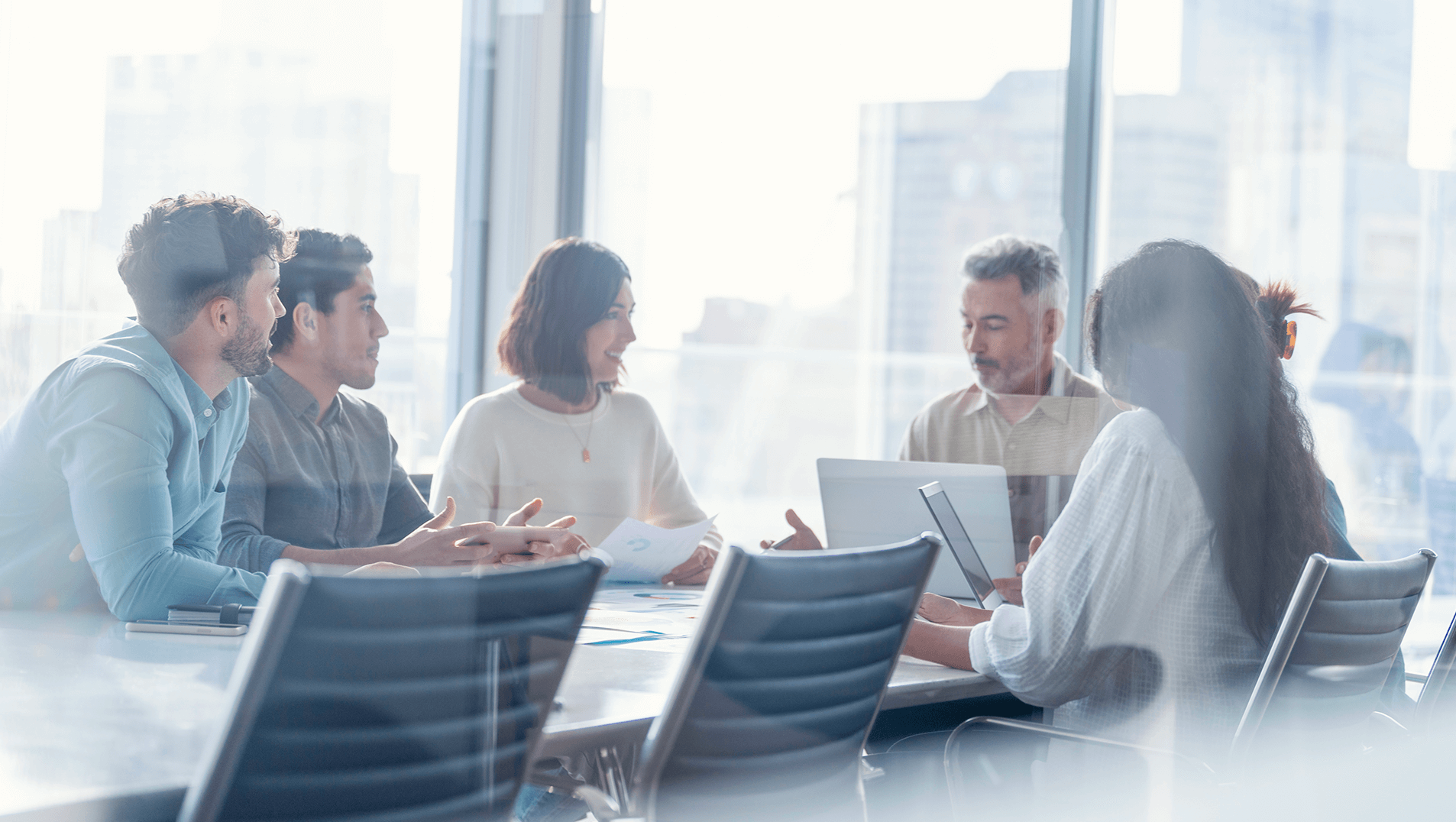 You may elect to set the chairs in a circle so that all Board members can see each other. Always take into consideration accessibility, as well as the size of the room – can all of your Board members access the space easily? And, will everyone fit comfortably? Provide extra space or accessibility accommodations if necessary. As an added touch, you can provide refreshments – this is particularly helpful for team focus if you are planning a long meeting, as you do not want anyone running out of steam.

If your meeting is taking place in a virtual environment, such as Zoom, make sure to triple-check your links and platform functionality prior to the start time. You should be sure that everyone is familiar with the platform and comfortable navigating it, providing instruction if necessary.
3. Distribute board meeting material
All relevant documents should be distributed to your team prior to meeting within a reasonable timeframe for members to read up ahead of time. Do not send out documents at the last minute and expect your team members to be up to speed come meeting time: it is your responsibility to ensure that everyone has access to the relevant information and ample time to absorb it.

Documents can include committee reports, staff reports, Board packs and documents contextualising upcoming decisions. They should be presented in a clear and accessible format so that Board members can easily reference them prior to and throughout the meeting.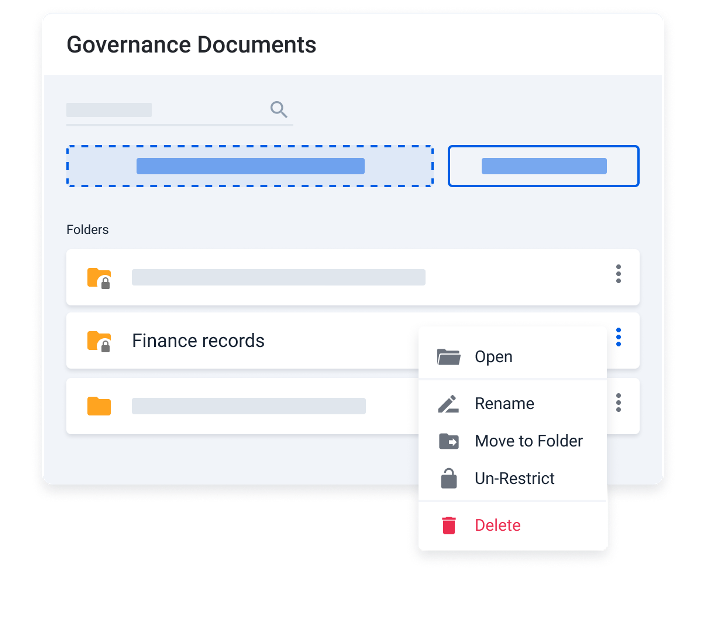 If your organisation uses Board software like BoardPro, be sure to verify that your Board pack and agenda are ready for distribution and all uploaded so that your team can read through the information before the meeting. Make sure you have included all the accompanying documents and reports for each item in your agenda.

Before your meeting begins, make sure that every Board member is up to speed and has read any relevant documentation.
Key Takeaway: Set your Board up for success by preparing an agenda, establishing a space for the meeting and distributing all relevant materials ahead of time to your peers.
During the meeting
Facilitate discussion and decision-making
Your discussion can begin once all Board members have finished their preparation by reviewing the information provided prior to the meeting. It is important that everyone gets a chance to speak and that all opinions expressed are weighed equally, as the Board as a whole is responsible for making the final decision.

Discussion and decision-making are the bread and butter of the Boardroom. Together, they decide the future of the company and steer it in the right direction. Spending the time to review all the current reports, debating the issues on the agenda, keeping accurate minutes and checking off action items means that the Board will make effective decisions with clear, achievable goals. But the work is not done with the meeting.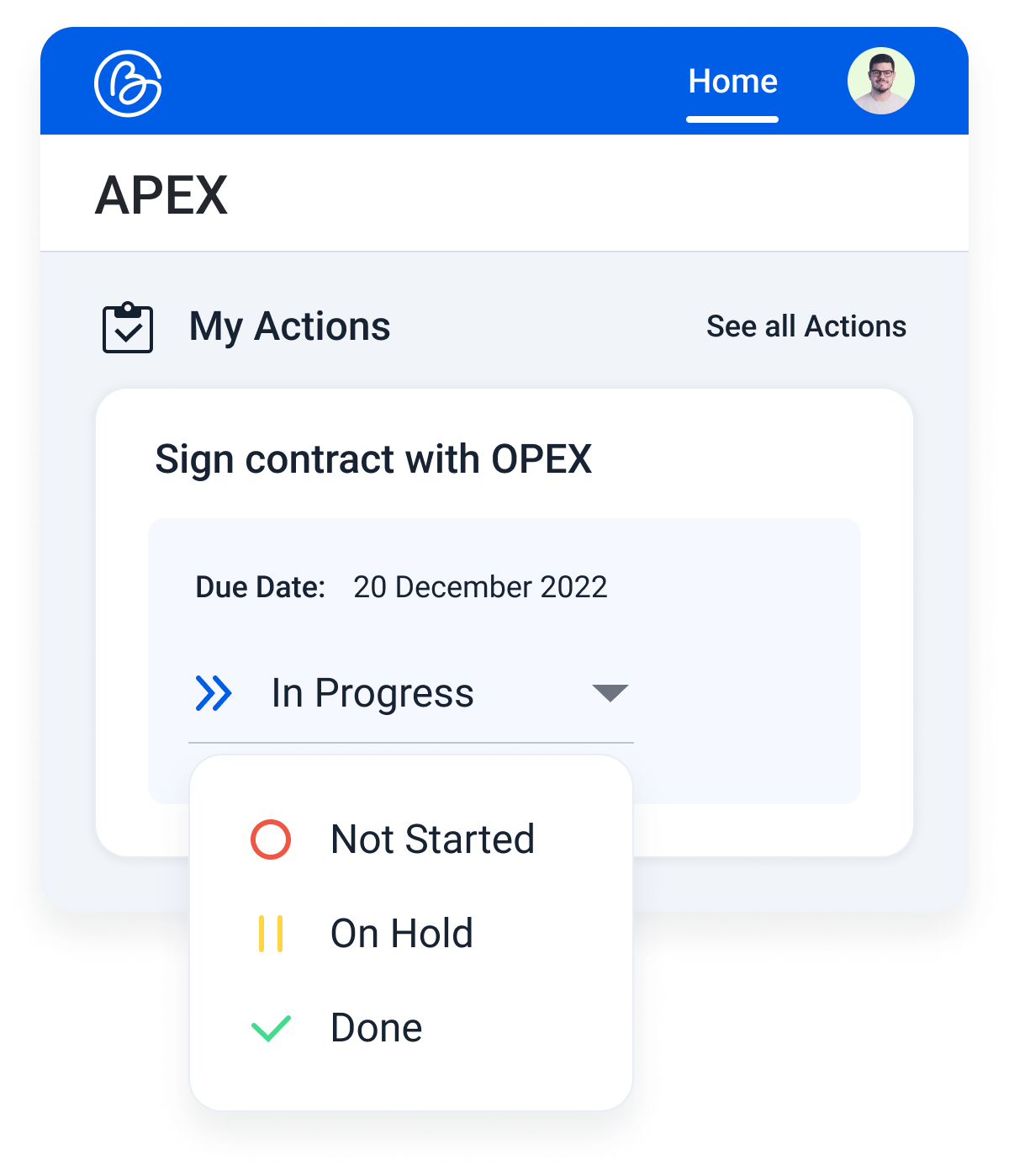 Post meeting
Follow up
The work of running an effective Board meeting does not end with the meeting itself. Having completed this key step, you still must follow up on action items from the meeting.

Make sure that these are completed quickly so that they do not get lost in the shuffle of daily working life. If necessary, assign action items to specific Board and staff members during the meeting and continue to follow up with them for progress reports post-meeting. Set deadlines to make sure that everyone is motivated to get things done so that you can move on to preparation for the next meeting. Be open to providing feedback and guidance, especially if the team member is new to the task, that way everyone stays motivated to work to their full potential.

If your company uses a Board portal such as BoardPro for their meetings (pre- and post-production), action assignments and follow-ups will be automatically distributed to directors and executives. Reminders are also sent out through the portal as well so that you can leave behind the administrative stress of minute tasks and focus on big-picture company direction. More on this later.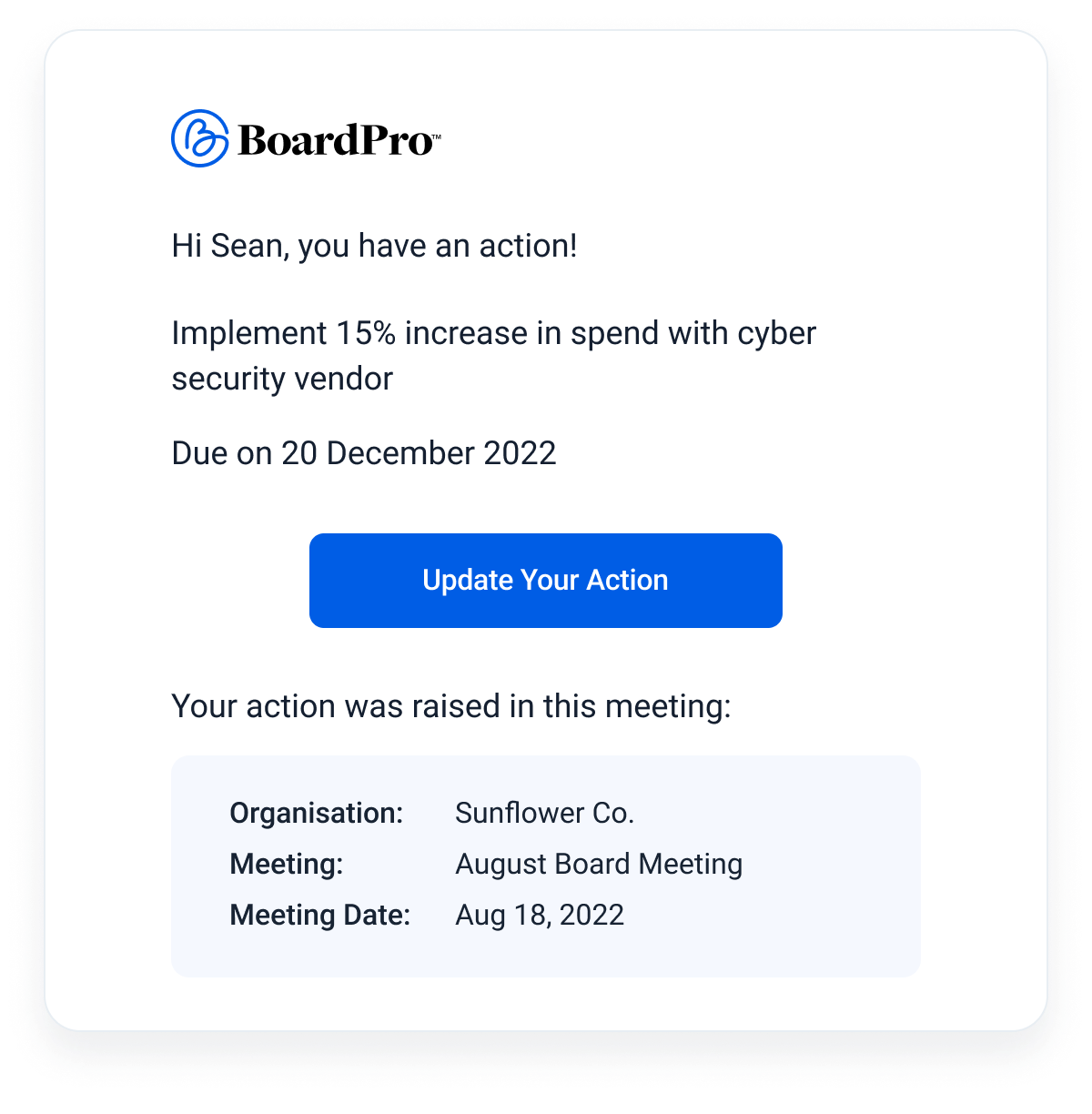 Keep accurate records and reflect
You should also be sure to accurately record all decisions and meeting minutes. The preservation of minutes and the creation of Board packs are of vital importance to the success of your organisation from a legal perspective as well as a goal- and growth-oriented one. You must document the decision-making process of your Board, including attendance and absences, topics of discussion, any motions passed or rejected, votes and how they fell, as well as another key, related information.

When you have finished recording your action items (or added them to your portal!), it is time for the reflection stage of the Board meeting process. You should evaluate how effective the meeting was, including what worked and what you hope to change for the future. It may help to compare previous meetings' agendas and minutes with current papers so that you can identify gaps in your effectiveness.

Decisions should always be documented post-meeting and all action items followed up on so that you can build upon the momentum of the meeting to ensure the success and efficiency of the next. Learning from past meetings and preparing for future ones will keep you prioritising effective time management, team building and a future-focused outlook.
Key Takeaway: Conducting effective Board meetings means improved decision-making, increased productivity and time-management skills and enhanced collaboration, all of which bring companies closer to their goals.
The board portal advantage
Board portal software such as BoardPro can drastically improve Board efficiency and functionality. The software is easy to use and beginner-friendly, designed to help you and your fellow directors save time on the administrative tasks of running a Board so that you can focus on what truly matters to the company. BoardPro streamlines the document distribution process and lets members participate in real time, editing documents in the cloud and keeping up to date with Boardroom happenings no matter where they are in the world. Updating from a traditional Board management format to a digital portal platform takes your Board to a new level, not only in terms of ease and efficiency, but in the realm of cybersecurity and team collaboration as well.
"BoardPro is helping me to build a platform for governance that is future-proofed," explains Michelle Berriman, the forward-thinking Executive Director of Fundraising Institute of New Zealand. "It's a dream for me. It's incredibly intuitive and so straightforward."

Executive Director - FINZ
Conclusion
Board meetings ensure that organisations run according to their long-term goals. They help prevent conflict and provide the necessary oversight. They can encourage collaboration and spark ideas – but they can only do all of this if they are conducted in an effective manner.

These meetings must be invested in with time and effort: preparation in planning, care in execution and follow-through will all pay off in terms of company success. Effective Board meetings support companies in their goals for the future and help them abide by all regulatory specifications.

If you are looking to cut down on the administrative hassle of Board meetings, or if you are simply ready to update your traditional Board meeting format, then BoardPro may just be what you need.

Get started today with BoardPro – revolutionise your boardroom experience!
---