Refresh your meeting minutes - 4 Steps to success

5 min read
Mar 9, 2023 11:21:57 AM
Clear and accurate minutes are the key to your Board's success. Why? Well, because minutes are a record of Boardroom discussions and the important decisions that were made – whether your organisation is gathering annually or for crisis management, whether your company is internationally recognised, or whether your organisation is an Non-profit (NFP) is just finding its feet; you need to be keeping meeting minutes.

This is because minutes have your back when it comes to future legal disputes, and they can also help you keep stakeholders in the loop when it comes to business updates. In fact, organised and succinct minutes can quickly take your Board to the next level of operations.

Yet many companies struggle with taking successful meeting minutes. Often, minutes are a dreaded task associated with burdensome paperwork and hours spent hunting through files. A lack of organisation can easily change what should be an easy task into an admin nightmare.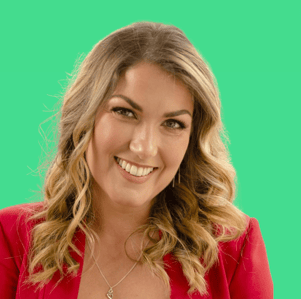 "Inaccurate or incomplete minutes can have serious consequences – an example of this is the collapse of the Wynyard Group in 2016. The Financial Markets Authority's (FMA) investigation report stated that 'minute-taking is a key tool for ensuring that information is properly recorded and retained,' explained the founding director of Board Administration Services Ltd. Dauniika Puklowski.

"The Wyndham Group's collapse had significant consequences for its shareholders, employees, and creditors. The FMA's investigation into the company's failure highlighted the importance of good governance and risk management practices, including the need for accurate and complete meeting minutes. The findings of the investigation serve as a reminder to all organisations of the importance of effective governance and risk management, and the potential consequences of failing to properly document discussions and decisions."

A few simple changes to how you structure your meetings and minutes can make all the difference. Believe it or not, meeting minutes can actually become an easy part of your Board's successful teamwork and governance practices rather than a chore. If you are looking to change how your organisation records its minutes, read on.
Plan ahead
The first step to creating successful and clear minutes is proper planning for your Board meeting. Establishing a meeting agenda ahead of time ensures that your Board discusses all important issues at hand and limits distracting tangents. Distribute this meeting agenda ahead of time to Board members so that they have time to reflect and prepare for the meeting. You will gain greater insight and have more productive discussions when it is time to meet.

For Puklowski, she finds that having a meeting template ready helps streamline the minutes meeting process. "I find having a minute template ready, with headings that clearly follow the meeting agenda, and resolutions pulled from the decision papers makes typing out the minutes just that little bit easier. Board software programmes like BoardPro automate this process, removing even more admin time."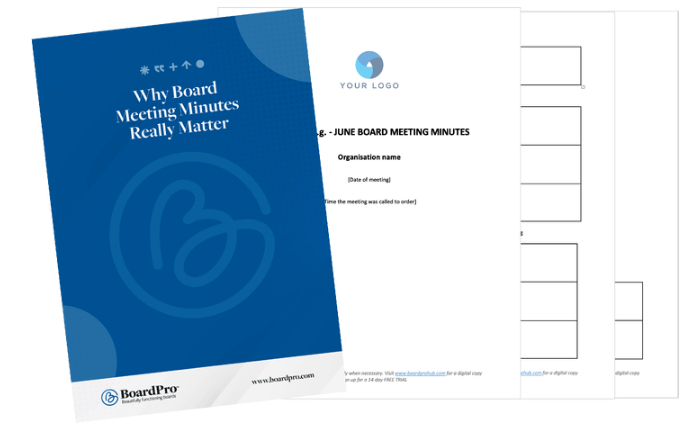 Download the Board Minutes Guide and Meeting Minutes Template

Meeting agendas are blueprints for your meeting minutes. Your agenda should include the following:
The company name
The date, time, location and type of meeting
Attendance: both presence and absence of members
Any late arrivals, departures, visitors or relevant quorum
Robert's Rules of Order states that approximately ⅔ of Board members must be present as a quorum in order to make decisions

Leave space in your agenda for the main sections of the meeting, including:
Approval of past minutes
Report reviews
Circling back on past meeting discussions
New objectives and proposals
Remaining items to be readdressed
Finish out your agenda and minutes with details for the next meeting (date, time, location) and the start and end times of the current meeting (including when it was called to order and adjourned). Having a clear structure to follow when it comes time to meet will keep your minute-taking on-task.
Be thorough
When it is time to meet, assign the Board secretary to record the discussion, highlighting any decisions made. Using their preferred note-taking system, they should structure their notes within the pre-existing agenda. Ensure that all motions are recorded, including who seconded them, and that each action taken and its reasoning are written down.

If your Board passes a voice vote, the minutes should record that the motion passed. For counted votes, the numbers of votes in favour and against should be documented. Each motion must be clearly described so that it can be quickly referenced in the future.

If it suits, the secretary may record the meeting to capture details, but they must inform the Board. If recording, be sure to capture the start times and times of each action; that way, you can locate topics within the audio file rather than having to listen back to the whole thing.
Reflect
Your final meeting minutes document should record only the necessary points from the meeting. Make sure that your Board secretary transcribes and edits their notes during or immediately following the meeting. Minutes must be proofread and of professional quality to be easily understood by the team.

Writing up your minutes allows for time to reflect on the meeting and the best way to convey Board information to the team. A few tips for writing-up minutes include:
Write in the past tense
Use bullet points for easy reading
Clarify acronyms and jargon
Remain factual and objective; do not include personal opinions or controversy
The goal in writing up your minutes is to be brief and straightforward. Minutes should not be a transcription of the entire meeting verbatim. Rather, they should be to the point, clear and accurate to serve as future reference points and legal backup. If you need to include additional details, consider an appendix of related documents or by using footnotes.
Gather feedback
The meeting minutes draft should be circulated to the Board chair for feedback promptly post-meeting so that the discussion is still fresh in their mind. Once the Board chair approves the minutes, distribute them to the rest of the team. Errors must be corrected quickly and revisions sent out, with the date clearly marked.

While Board meeting minutes are generally not accessible to the public due to their nature as confidential documents, Board members and shareholders should be able to access them easily. Meeting minutes are a formal record of Board meeting proceedings and can help guide the business, but only if those involved in its direction can make use of them.

One easy way to simplify the meeting minutes process is to implement Board management software in your organisation. Board portals such as BoardPro exist to take the hassle out of the administrative side of running a Board. The integrated software streamlines the minute-taking process, allowing for the real-time sharing of documents between team members and a centralised repository of company records.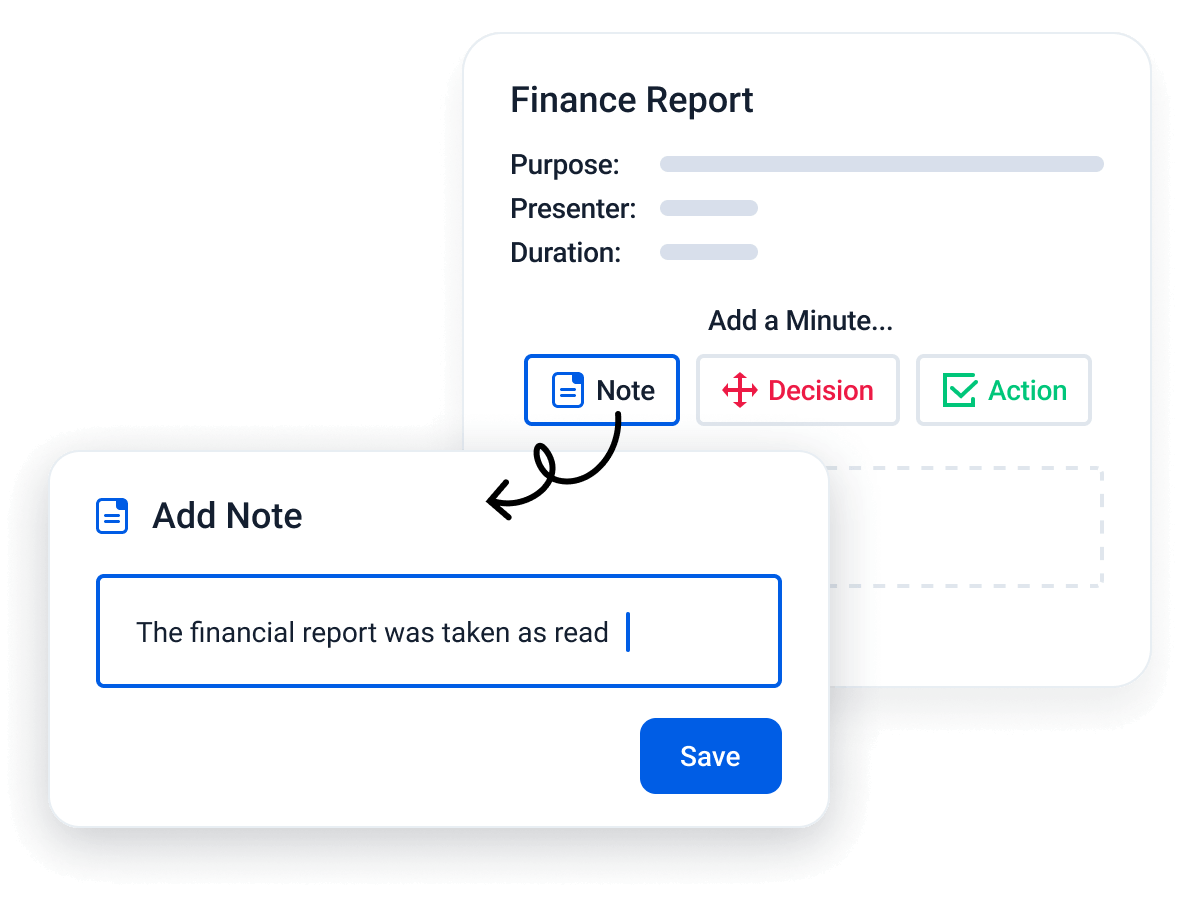 Board members can track action items, regulate access and take minutes in real time with the BoardPro minute-taking feature. The software is user-friendly and adaptable to suit different companies' needs. Portals provide a secure alternative to a traditional approach, meaning that not only are all your meeting documents accessible to the team but there is also no risk of confidential information being leaked.
From minute-taking to task scheduling and long-term planning, BoardPro keeps your company's information secure and easily accessible so that you leave the admin behind and focus on flourishing.

Schedule a demo with our team today and begin to experience a whole new way of meeting.