Board and Committee Meeting Minutes Guide
7 min read
Apr 4, 2021 9:17:25 PM
Board minutes are the most important part of board and committee meetings. It captures meeting topic notes, actions, and decisions into an organised document to send to the board.
BoardPro's Minute Taking tool allows users to take accurate minutes that follow the structure of the meeting agenda. This enables them to keep track of meeting discussions in real-time. This saves users time and eliminates the need for double handling.
Agenda & minute taking function of BoardPro

Minute taking is essential because it's the only official written account of everything that occurred in a board meeting. Video or audio recordings are not easy to sift through, which is why minute taking is a must.
A minute taker can benefit greatly from BoardPro's Minute Taking tool because it makes the job easier. It provides many great features that will save time and effort and will lead to accurate and valuable minutes. But before we discuss the features and benefits of Minute Taking, let's discuss what it is and how to do it right.
What Is Minute Taking?
To answer what is minute taking, we need to talk about the minute taker. They are responsible for recording important notes during board meetings. Otherwise, there wouldn't be a record of what happened.
However, it's important to understand that Minutes are not word-for-word meeting transcripts. Minutes are a summary of the most relevant points that were discussed during the meeting and the decisions that were reached.
Taking Minutes of a meeting is quite the craft because the document needs to be easy to read. Additionally, it needs to make sense even for board or committee members who didn't attend the meeting.
A minute taker has a lot of responsibilities. They must take the meeting notes, understand the topics, practice active listening, and understand the proper format. Otherwise, the board meeting Minutes wouldn't be useful.
Before getting started, we wanted to highlight an awesome resource. BoardPro's team is made up of some really talented people who know a lot about board management. Some of our team members have tapped into their knowledge and produced a Guide and manual template, that reimagines the approach to board packs. You'll learn how to shave your meeting prep time from hours or days to just minutes by making everything digitally accessible. Go ahead and download your guide (it's free!). It'll be there waiting for you when you finish reading this board minutes guide and minute taking template.
How to Take Effective Board Meeting Minutes
If you're wondering how to write minutes of a meeting, this is a short overview of all the steps that need to be taken:
1. Prepare. Every organisation takes board meeting minutes differently, which means you need to prepare. You must review previous minutes and use them as a template to maintain consistency. Luckily, copies of previous meeting agendas will be available on the BoardPro dashboard and they're easy to find.
2. Structure. Following a structure is key, so you need to know what information you need to record and how to present it. This is why tools like BoardPro's Minute Taking are so useful. They allow you to follow the board meeting agenda accurately and include all necessary elements. Such as the date and time of the board meeting, discussions motions and decisions, voting, and more.
3. Review. The board meeting agenda needs to be reviewed to get the complete picture. Additionally, you must review decisions, actions, motions, and votes for clarity, add notes, and edit the minutes so they're easy to read and accurate.
4. Filing and sharing. Once the board meeting minutes are completed and reviewed, they need to be filed and distributed. The best way to file minutes and any other relevant board meeting documents is through a board portal. For BoardPro, your meeting minutes are automatically saved as a secure pdf file in your Meeting Document area. This makes the whole process of searching for past meeting minutes so much easier.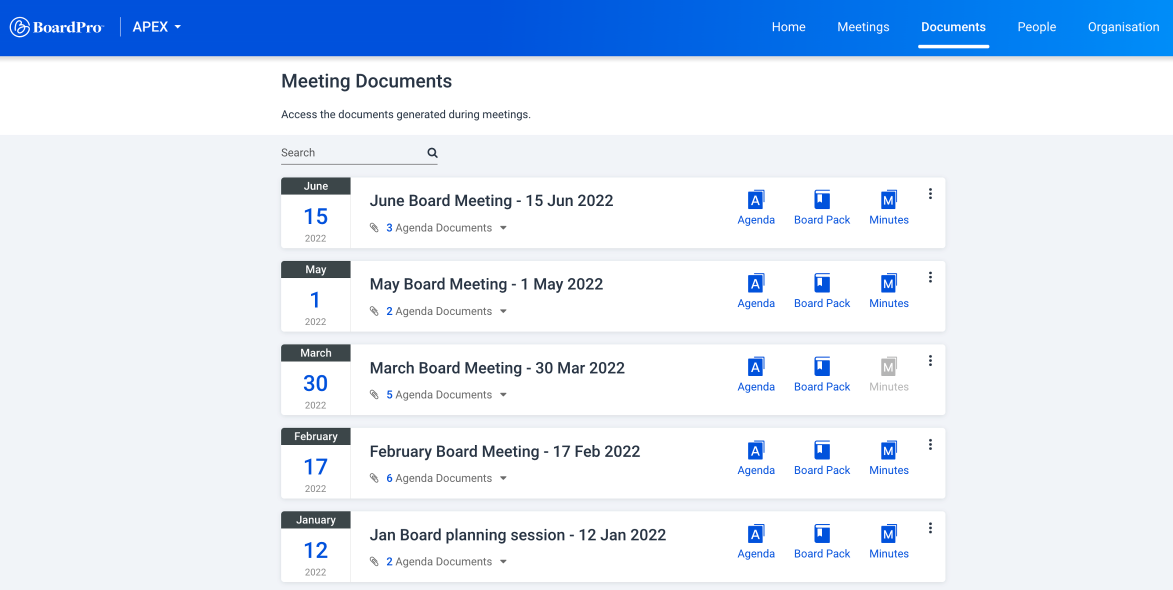 Meeting Document section of BoardPro

While the content of your board minutes will change from one meeting to the next, following a standard outline will help the minute-taking process to ensure consistency and accuracy. There's no "right way" to draft board meeting minutes, and each organisation has its own preferences for what effective ones look like.
If you are NOT using BoardPro for your meeting minutes then the template below will have you form up with meeting meetings. Click on the image to download a Microsoft Word template to use in your meetings.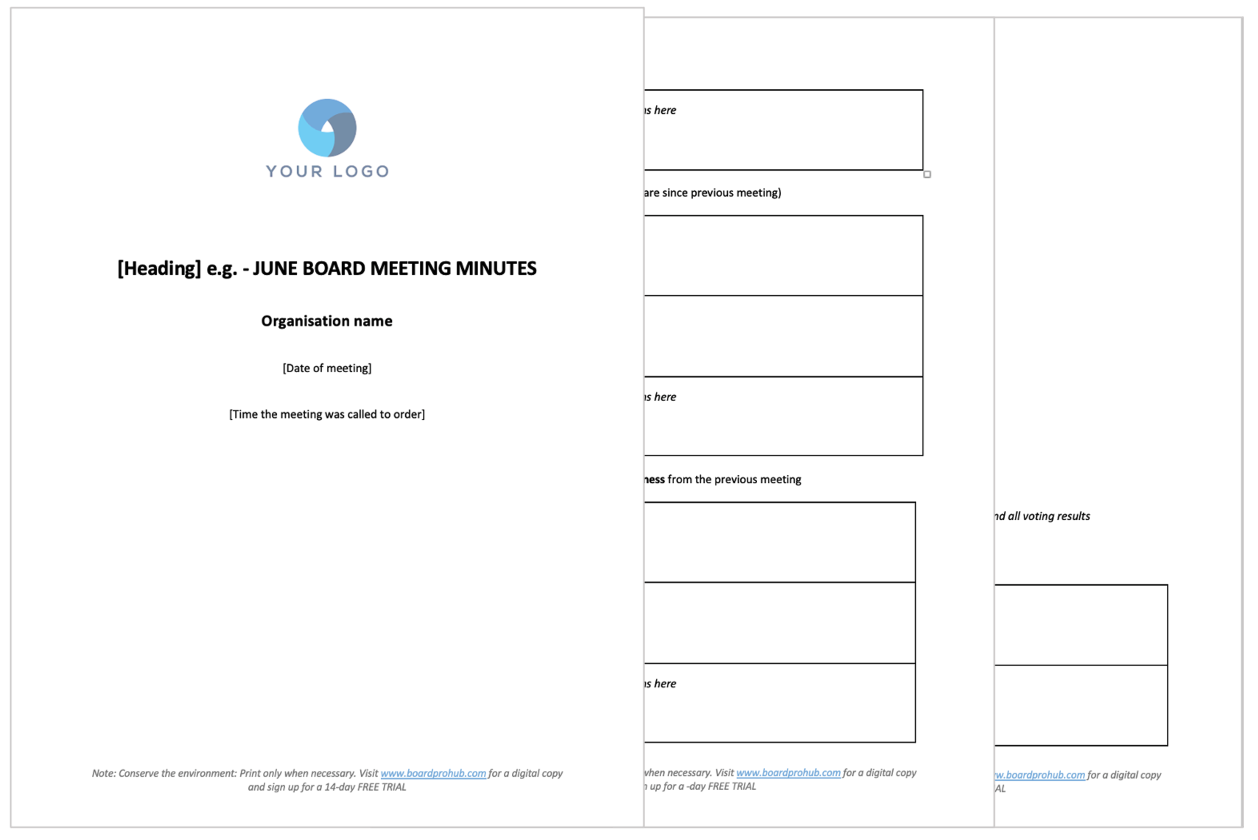 That's where BoardPro comes in. Our Minute Taking tool allows users to track every single relevant element of resolution minutes and approving minutes. Additionally, it makes it easy for them to distribute them to board members. All in one secure and intuitive platform!
BoardPro's Minute Taking Features and Benefits
The BoardPro Minute Taking tool allows users to write minutes that will follow the board meeting agenda. This way, they can track the conversations and discussions of the board meeting in real-time. It does not only lead to more accurate minutes, it also eliminates the need for double handling.
It's very easy to draft minutes of a meeting with this useful tool, thus saving users time and effort. Additionally, users can add notes to each agenda topic very quickly and format their copy according to their needs.
Decisions made in the board meeting minutes will be automatically saved to the BoardPro Decision Register.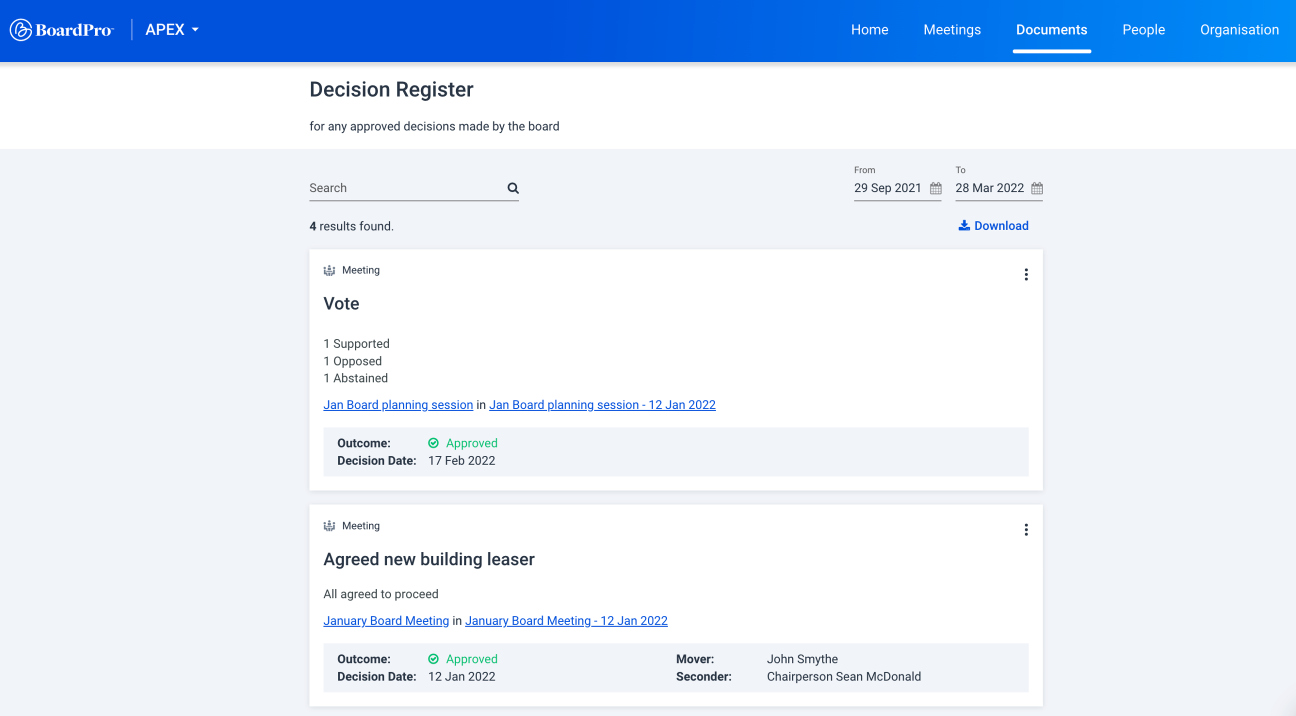 ‍The Decision register of BoardPro
This feature keeps a historic record for future reference that's very easy to use. Not to mention, users will be able to assign actions to board members and executives.
BoardPro will keep track of the progress of the actions and send reminders. This ensures that board meeting actions are properly followed up and completed within the required time frame. Actions are also recorded on the BoardPro Action List for future reference.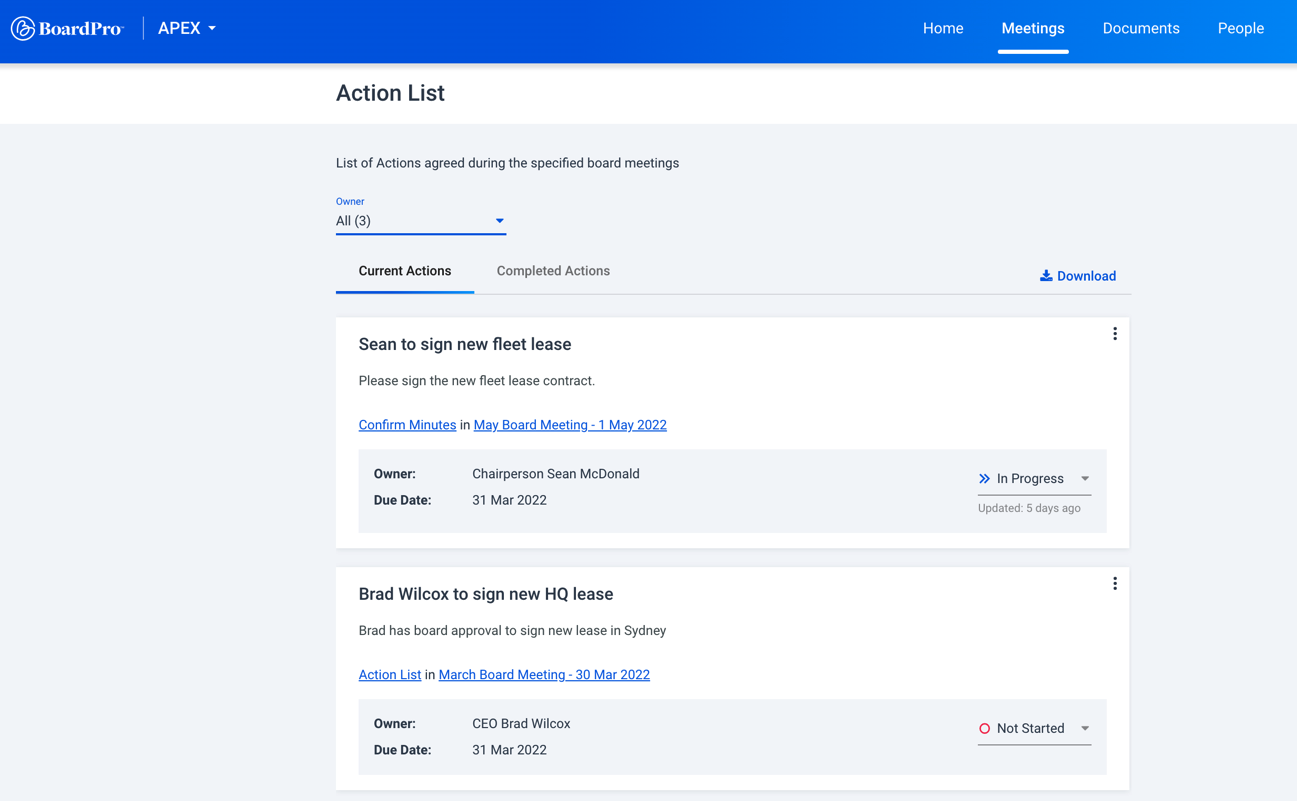 ‍BoardPro Action register
When board minutes are finished, users can use the Post-Meeting Tasks to send out the Minutes to the team and distribute assigned actions. The board Minutes will be automatically be set to confirmed at the next board or committee meeting.
BoardPro's Minute Taking benefits organisations greatly by enabling effective minute taking and allowing all important actions in just one dashboard. It also stores all past board meeting Minutes in a single location, so they can be found for reference whenever necessary.
Effective Minute Taking Tips
Learning how to take minutes doesn't have to be a huge challenge. Especially not if you can leverage tools such as BoardPro's Minute Taking. There are also many effective minute taking tips you can practice, such as:
• Understand the meeting topics. This is essential to write minutes that are useful and valuable. Having a grasp on the issues being discussed will allow you to determine what matters and what to note.
• Listen actively. Writing down exactly what you hear is time-consuming and impractical. Listen actively and get an idea of the information so you can accurately summarise it.
• Work with a template. Templates make the job easier for minute takers and it saves them time. The BoardPro Minute Taking tool will allow you to follow the order of the agenda, which helps a lot.
• Meet with the chair. Doing this in advance will allow you to finalise the board agenda and ask questions to understand the goal of the meeting. This helps you prepare. The more prepared and assertive you are, the better.
• Communicate with attendees. Talking to other meeting attendees is a great way to gain more insight. This way, you'll be able to make more accurate judgment calls. Additionally, they can clarify any doubts on the meeting's subject matter.
• Write brief notes. All your notes should be clear and brief. Remember, the minutes are a summary of the most relevant information. They are not a detailed record of everything that was said in the board meeting. However, they need to communicate the intentions, arguments, and outcomes.
These are only a few of the minute taking tips you can use to have an easier time with your duties. Of course, the BoardPro Minute Taking tool will help you even more!
Summary
Minute Taking is a vital part of any board meeting or committee meeting. The BoardPro tool wouldn't be complete without this feature and it's incredibly useful. It won't only help users take accurate and valuable board meeting minutes, it will also help keep the board on track.
No board meeting actions will fall through the cracks! Users will be able to set automatic reminders, automatically review minutes in the next meeting, and keep track of actions.
Minute Taking also keeps a historic record of all past minutes. They can be found easily and accessed with a simple click. No more searching through old emails or countless shared folders. Everything will be available in a centralised place, thus making boards more organised than ever.